What to watch for: Indiana in Montreal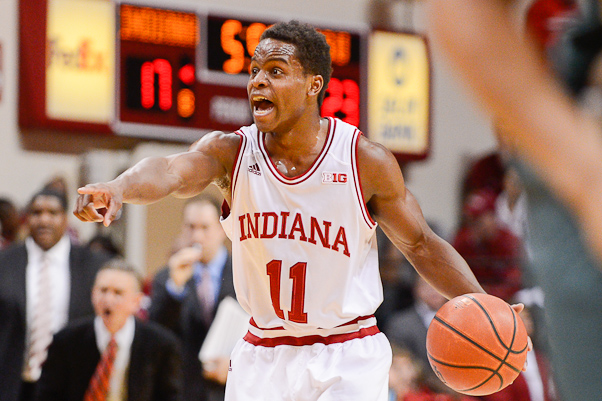 Indiana begins a five-game tour over six days in Montreal, Canada (with one game in Ottawa) on Aug. 8 which will be the first foreign trip for the program since 2007. Here's a look at five things we'll be watching for on the trip:
· How will Indiana respond to adversity? The last Indiana foreign trip in 2007 to the Bahamas resulted in three lopsided victories by an average margin of close to 60 points. This group of Hoosiers will be playing a much more difficult slate of games against some of the best teams in Canada, including Carleton University and Ottawa University, who faced off last spring for the Canadian Interuniversity Sport (CIS) title.
It's not a matter of if Indiana will face adversity in several of these games, it's a matter of how they will respond. With only two returning upperclassmen and seven new scholarship players, it'll be interesting to see how quickly chemistry can begin to form against solid competition.
"I'm really anxious to see who is real up when we are playing well and who gets real down when we are not playing well," IU coach Tom Crean said earlier this month. "And then you've got to have guys that can impact the game on both ends of the floor."
· Our first look at James Blackmon Jr.: Indiana fans have followed James Blackmon Jr. since the summer before his freshman year of high school and now the Fort Wayne native is set to make his debut in an IU uniform. Blackmon Jr. looks like a pretty safe bet to start from day one as a Hoosier, but his impact on other perimeter players could be a major storyline this season.
Much has been made about Blackmon Jr.'s ability to score in a variety of ways. He can score off the dribble using a floater, with a pull-up, off the catch on the perimeter, in transition and also going to the basket in the halfcourt. But how will his game make it easier for other IU perimeter players to be effective? Will he take some of the scoring load off of Yogi Ferrell and allow him to become more of a distributor? Will his ability to space the floor open up more driving lanes for Stanford Robinson and Troy Williams? And how will he and Robert Johnson complement each other?
· How will Hanner Mosquera-Perea respond to major minutes? We went in-depth on Mosquera-Perea's role a couple of weeks ago, but Montreal will afford us the first opportunity to see the type of offseason progress he's made to date. With several months still to go before meaningful games are played, his performance in Montreal shouldn't be judged too heavily one way or the other, but getting him reps as a main rotation cog has to be viewed as a major priority on the trip.
We know that Crean has praised Mosquera-Perea's progress with his physique, but we'll be watching things like his turnover rate and his fouls, both of which were major problems for him as a sophomore in limited minutes.
"We need his consistency," Crean said of Mosquera-Perea in early June. "It's no more fun and games, now it's time for you to lock in and mature and not anymore talk, let's get at it."
· A glimpse of Indiana's "unconventional" style: When Crean met with media at Huber Winery in early June, he noted that he wasn't sure how Indiana would play other than it would be "unconventional." With individual workouts over the summer and 10 practices to prepare specifically for the trip, we'll get our first glimpse at things like rotations, how Indiana will utilize the post, how Indiana will use its new shooters and more.
We know that Indiana doesn't have a big man that is going to command the ball often in the post, so how will that change the offense? Rotation wise, is Indiana going to go small often and use Williams at the four? And without a proven, efficient scorer around the basket, how will the Hoosiers generate easy offense and not become too reliant on the 3-pointer? These are all potential items to track in Canada.
· Our first look at Tim Priller, Jeremiah April and Nick Zeisloft: Blackmon Jr. and Johnson are familiar names to Indiana fans who follow recruiting and Max Hoetzel became more familiar as last season moved along. But Tim Priller, Jeremiah April and transfer Nick Zeisloft are all relative unknowns to fans and media alike.
These five exhibitions should provide insight into each player, each of which has the opportunity to bring a little something different. For Priller, it's size and shooting. For April, it's the potential to add frontcourt depth behind Mosquera-Perea and Devin Davis. And for Zeisloft, it's shooting, defense and leadership, three things that Crean discussed when the program announced his addition earlier this summer.
Filed to: 2014-2015 foreign tour, Hanner Mosquera-Perea, James Blackmon Jr., Tom Crean, Yogi Ferrell