Versatile Kris Wilkes continues to grow his game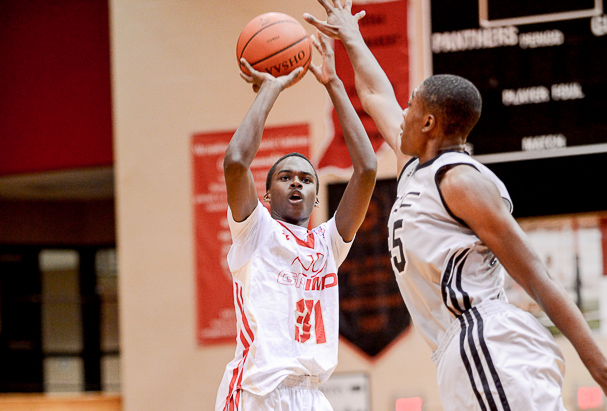 INDIANAPOLIS — If you watch class of 2017 North Central forward Kris Wilkes for just a few minutes, it's not hard to figure out why he's become an early recruiting priority for several schools, including Indiana.
Although he just completed his freshman season, Wilkes is a matchup nightmare on the wing at 6-foot-6 with a 6-foot-9 wingspan. He can score from the perimeter with his jump shot, beat his man off the dribble and uses his size well in the paint to finish over smaller opponents.
And unlike some of his peers who are already physically developed, his game should continue to grow as he works to put on weight. It's not just about basketball, either, for Wilkes. He's a black belt in Taekwando and has a GPA well over 3.0.
As a freshman at North Central, he averaged 9.4 points per game and 3.3 rebounds per game as the Panthers finished 16-7 and fell to Carmel in the sectional. His role should expand as a sophomore as North Central lost leading scorer Eron Gordon, who transferred to Cathedral.
This summer, Wilkes, who is just 15, is a major piece on the Under Armour Indy Hoosiers 15-and-under group that also features Southport's Paul Scruggs, Hamilton Southeastern's Zach Gunn, Pike's Justin Roberts and Gary Trent Jr., a Minnesota native.
In its first game of the July evaluation period at the adidas Invitational, the Indy Hoosiers attracted Indiana coach Tom Crean, who offered Wilkes a scholarship last summer.
"I really like Tom (Crean)," Wilkes said. "I really like the campus and the student section and the crowd and stuff is really nice down there. It's a pretty good atmosphere."
While he acknowledged noticing which coaches watched his first two games of the evaluation period, Wilkes said he tries to keep his focus on the floor and winning games.
"I saw some of the coaches yesterday — Xavier, Purdue and IU coaches were here," he said. "I just try to worry about what's on the court and play."
Right now, Wilkes' recruitment is mostly regional, but it's certainly possible that schools from around the country could begin to express interest soon. In Scout.com's initial rankings for the class of 2017, Wilkes is a four-star prospect and the No. 15 player overall in the class.
To date, Indiana, Purdue and Xavier have offered scholarships and Wilkes has visited all three schools as well as Ohio State.
"Xavier, I like how the campus is small and there's not too many people," he said. "Purdue, I like that they have an engineering program because I want to do engineering."
Although schools cannot contact Wilkes directly at this point, he keeps in touch with many of the programs that have offered scholarships or expressed interest.
He said Crean is consistent with his advice.
"Don't stop now," Wilkes said of the message from IU's head coach. "Just keep working harder and getting better each year. We keep in touch every month or really every other week or so. I just keep in touch and keep them updated on different things."
As a student at a high school that sends a high volume of kids to Indiana each year, Wilkes admitted that he hears from his classmates frequently about where he should go for college.
"A lot of them tell me to go to IU," he said with a laugh and a smile.
Filed to: Kris Wilkes