Early Indiana offer "meant a lot" to Paul Scruggs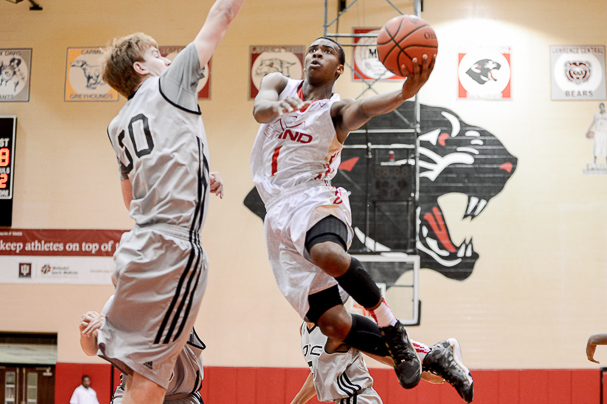 INDIANAPOLIS — Indiana's approach to pursuing the top players in the state under Tom Crean has been unwavering.
In his six-plus years in Bloomington, Crean has made it a point to get in early with many of the state's top prospects and in three of the last four years, he's landed a McDonald's All-American from Indiana.
The 2017 class is shaping up as another talented group and one of the standouts is Southport guard Paul Scruggs, who received an offer from the Hoosiers last July.
The 6-foot-3 Scruggs is playing in front of college coaches this month with the talented Under Armour Indy Hoosiers 15-and-under AAU team that also includes North Central's Kris Wilkes, Hamilton Southeastern's Zach Gunn, Pike's Justin Roberts and Gary Trent Jr., who is from Minnesota.
Crean was in Indianapolis on Thursday night to watch their first game of July. On Friday, the group attracted assistant coaches from Louisville, Michigan State, Purdue and Xavier. A combination of factors, including fan support, the coaching staff and proximity to campus, has the Hoosiers in solid position early with Scruggs.
"It meant a lot (to get that offer)," he said. "When I got it, there were a whole lot of people in my neighborhood coming up to me and congratulating me and stuff like that. I liked it."
As a freshman at Southport, Scruggs averaged 13.5 points, 7.2 rebounds and 3.5 assists per game as the Cardinals finished 15-8 and lost in the sectional championship to Pike. It was quite a turnaround for a program that finished just 1-19 the season before.
Scruggs said he's focused on improving in a variety of areas this summer to prepare for his sophomore season.
"I"m really just trying to work on being that much more of a leader, passing the ball and just trying to work on my guard skills and stuff," the rising sophomore said. "I see myself ending up as a combo guard, not probably a point guard."
In addition to the offer from Indiana, Scruggs recently picked up an offer from Purdue. To this point, he's visited five schools: Indiana, Michigan State, Ohio State, Purdue and Xavier. He also mentioned Kentucky as a school he really likes, but he hasn't heard from the Wildcats to this point.
His proximity to Bloomington has allowed him to make multiple unofficial visits.
"Every time I go to the games, it's packed. No matter who they are playing, it's hype," Scruggs said. "I can kinda go down there any time they ask me if I'm not doing anything and they ask me to come down, I'll go down."
But with more than two years until he can sign a National Letter of Intent, Scruggs is focused on moving his game forward rather than focusing too much on recruiting.
The powerful guard is extremely tough to keep out of the lane, but realizes that his shot has a ways to go to become college ready.
"My weakness is shooting (right now)," he said. "My strength is driving to the basket."
Filed to: Paul Scruggs