Hanner Mosquera-Perea reinstated for Wisconsin game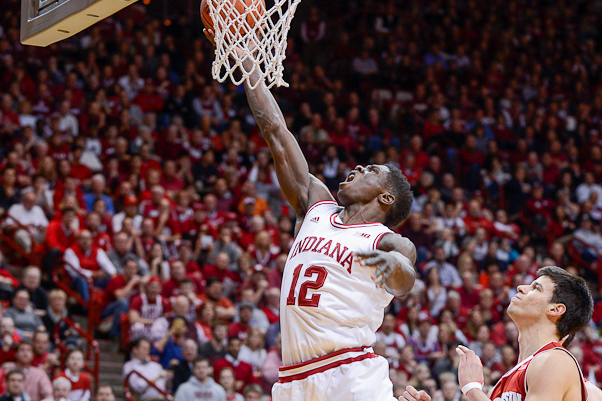 MADISON, Wis. — Sophomore forward Hanner Mosquera-Perea has been reinstated following a two-game suspension for an arrest earlier this month, Indiana coach Tom Crean announced on Tuesday.
Mosquera-Perea was arrested early in the morning of Feb. 14 and has been charged with two Class A misdemeanors: Operating While Intoxicated Endangering a Person and Operating a Vehicle with an Alcohol Concentration Equivalent to .15 or More.
Crean announced later that day that the 6-foot-8 forward would be "withheld from competition indefinitely," though he only missed the Purdue and Northwestern games.
Before Tuesday's game at Wisconsin, Crean said on his pregame radio show appearance that "we're bringing Hanner back tonight," and Mosquera-Perea was dressed and participating in warm-ups at the Kohl Center.
Indiana released a full statement from Crean only minutes later, which read: "Hanner is going to be paying a price in the office of the courts and with the Dean's office. He also is going to continue to be disciplined inside of our program with no end in sight to that. Hanner has done everything and more than what has been expected of him since the incident and we are allowing him to be available for competition beginning tonight."
In 24 games played this season, Mosquera-Perea is averaging 2.9 points and 2.3 rebounds in 8.0 minutes per game.
Filed to: Hanner Mosquera-Perea