The Minute After: Wisconsin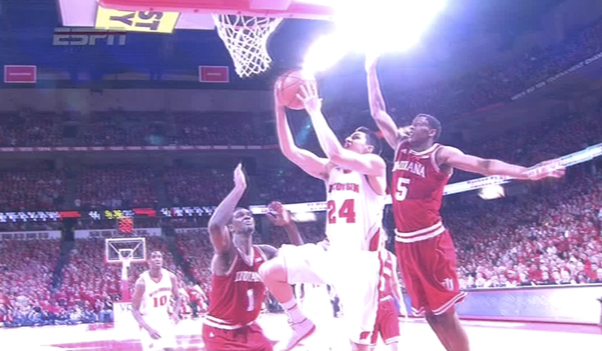 Thoughts on a 69-58 loss to the Badgers:
For a half, the Hoosiers silenced the Kohl Center.
They moved the ball. They found good looks. They went to their three best offensive players in Yogi Ferrell, Noah Vonleh and Will Sheehey. Wisconsin came in riding a five-game winning streak, shooting 40 percent from distance during that stretch. It ended the half shooting just 1-of-10 from 3-point range. The Badgers had some good looks here and there, sure, but Indiana also did a nice job of sticking with their men and doing its typical mix of man and zone defense.
IU carried a 10-point lead at 29-19 into the break, and maybe, just maybe, Wisconsin's hot streak was about to end.
But from the onset of the second half, Wisconsin was on a mission. A Traveon Jackson drive and score, a Josh Gasser jumper, two free throws from Sam Dekker, a 3-pointer from Dekker, a 3-pointer from Ben Brust, another 3-pointer from Brust, a lay-up from Frank Kaminsky, two free throws from Kaminsky, a Burst 3-pointer, a steal and score from Dekker, a Bronson Koening drive and score, a jumper from Dekker, two free throws from Dekker, a lay-up from Dekker, a 3-pointer from Gasser.
Troy Williams got burnt on some of those drives. And if Wisconsin got any space from 3-point land, sometimes from Indiana losing guys or over-helping, it was firing and it seemed almost always hitting. What had been a 10-point lead flipped to a 12-point deficit with 5:09 to go, and Indiana was just about toast. (Though, it should be noted the Hoosiers had some nice offensive possessions early in the second half to weather the storm a bit and got Vonleh the ball in a variety of ways. But as the half wore on and Wisconsin couldn't miss, Indiana stopped moving the ball, hurried things and that was about that.)
The numbers from Wisconsin's second half were ridiculous: 1.71 points per possession, 90.4 free throw rate (FTA/FGA) 76.1 effective field goal percentage, just one turnover. (For the game, Wisconsin turned it over on just 5.3 percent of its possessions. Spectacular.) This wasn't so much an Indiana meltdown as we've seen on the road in the second half this year; it was an Wisconsin explosion with essentially no mistakes. The Badgers were around a 10-point favorite in this one and that's just about where it landed. It just happened in an unconventional way.
Some other notes: Vonleh took 15 shots and was one off of a career-high with 18 points. There shouldn't be any griping about him not getting enough opportunity tonight. Will Sheehey scored Indiana's first seven points of the contest and looks to be more engaged offensively over the last two games, though those would be the only points he'd record in the contest. The Hoosiers turned the ball over on a respectable 17.7 percent of their possessions. Stanford Robinson didn't start again tonight, and is still a little erratic at times in the paint, but finished the contest 3-of-6 (seven points).
Three home games in a row coming up for the Hoosiers, and all and all, this isn't the worst one to take into Assembly Hall.
Filed to: Wisconsin Badgers