What to Expect: Wisconsin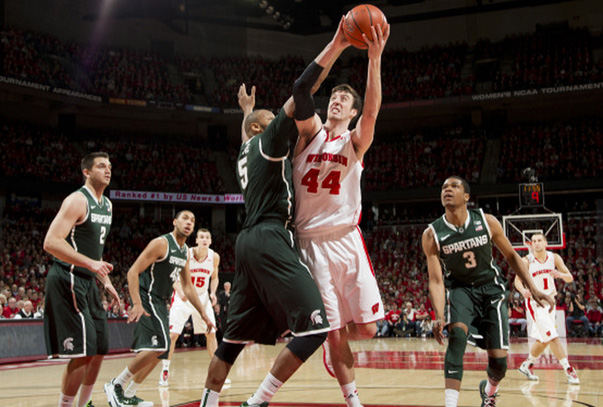 Indiana begins a stretch of three straight games against ranked opponents with a meeting against Wisconsin tonight at the Kohl Center in Madison. The Badgers have won five straight games, including back-to-back road wins at Michigan and Iowa.
The game will be broadcast on ESPN at 9 p.m. ET and on the IU radio network:
If we've learned anything about Wisconsin in the Bo Ryan era, it's to never count the Badgers out in the Big Ten race.
After a 75-72 loss in Bloomington on Jan. 18 sent Wisconsin into a tailspin that included five losses in six games, Ryan has his team right back in the thick of the conference race. At 9-5 in league play and 22-5 overall, Wisconsin might have the most impressive NCAA tournament resume of any Big Ten team.
Among their conference wins: at Michigan, at Iowa and Michigan State and Iowa at home. The non-conference work is impressive as well as the Badgers beat Florida, Virginia and Saint Louis before the start of league play.
More importantly, Wisconsin seems to be playing its best basketball as the beginning of March quickly approaches. Their remaining schedule is favorable with Indiana and Purdue at home and Penn State and Nebraska on the road. While Michigan is the clear cut favorite to win the Big Ten regular season crown, a second place finish appears clearly within reach for Wisconsin. And given where things stood less than a month ago following consecutive home losses to Northwestern and Ohio State, it's been an impressive turnaround.
PERSONNEL
As has typically been the case in Madison under Ryan, Wisconsin plays a defined rotation with a major focus on controlling pace without turning the ball over. This year's team is no different as the Badgers have a turnover percentage of just 12.6 in Big Ten games, which leads the conference.
Defensively, this team has had its share of struggles, but at 1.13 points per possession, Wisconsin has the Big Ten's third best offense and it's a balanced attack. Five players are averaging in double figures in conference play, led by senior Ben Brust and sophomore Sam Dekker at 12.6 points per game each and junior Frank Kaminsky at 12.4 points per game.
The frontcourt rotation consists of Dekker, Kaminsky and freshman Nigel Hayes, who is using 27.2 percent of Wisconsin's possessions in Big Ten play. Dekker has been solid but not spectacular with his shooting in Big Ten play (50.3 eFG%, 69.6 FT%) and is tenth in the conference with 6.4 rebounds per game.
Kaminsky, who is a tough cover because of his ability to score from the perimeter, has 46 points over his last two games and is knocking down close to 38 percent of his 3s in Big Ten play. His effective field goal percentage (57.3) ranks fifth in the conference. Hayes, who was simply too good as a freshman for Ryan to consider bringing along slowly, is averaging 10.1 points and 3.5 rebounds off the bench. He's hitting 66.1 percent of his 2s, which is sixth best in the conference and has taken 81 free throws in 296 minutes in Big Ten games.
The backcourt is essentially a four-man rotation with Brust, redshirt junior Josh Gasser, junior Traevon Jackson and freshman Bronson Koenig. Brust has really struggled from the perimeter in conference play (30.7 percent on 3s), but has just 10 turnovers in 494 minutes and is hitting 89 percent of his free throws.
Jackson hit the game-winner a couple of weeks ago against Michigan State and is fourth on the team in scoring in Big Ten games with 10.4 points per game. He's easily the most turnover prone player in the rotation, but is an improved 3-point shooter and is also the leading assist man for the Badgers (22.4 percent assist rate). Gasser is hitting 50 percent of his 3s in league play while Koenig's job is to essentially not turn it over (four total turnovers in 193 Big Ten minutes) while getting to the rack on occasion (9-15 on 2s in Big Ten).
TEMPO-FREE PREVIEW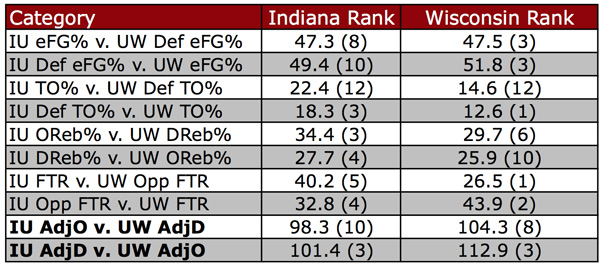 Indiana won the first matchup in Bloomington because the Hoosiers obliterated the Badgers defense to the tune of 1.17 points per possession and turned it over on just 14 percent of their possessions. The points per possession was IU's best performance so far in Big Ten play and the turnover rate was its second best effort behind Saturday's 12.7 percent at Northwestern.
Neither performance will be easy to replicate, especially in a road environment as tough as the Kohl Center. Wisconsin doesn't force many turnovers, which makes eliminating the unforced errors that have plagued IU all season paramount.
The Hoosiers are also unlikely to find much success in getting to the foul line, as Wisconsin has the lowest opponent free throw rate percentage in the Big Ten. In the first matchup, the two teams combined to shoot just 14 free throws.
WHAT IT COMES DOWN TO
Of IU's five remaining regular season games, this may be the toughest. Wisconsin is seeking revenge for a closely contested loss in Bloomington and given IU's struggles away from Assembly Hall, tonight's game appears to be a steep uphill battle on paper.
Pomeroy likes Wisconsin by 12 with just a 12 percent chance of an IU win, Sagarin likes the Badgers by 14 and the Vegas line favors Wisconsin by 10.5.
Wisconsin has proven that it's not unbeatable at home this season with losses to Michigan, Northwestern and Ohio State, but the Badgers are on a roll as of late and still have plenty to play for as a share of the Big Ten title is still possible if Michigan slips up a couple of times over its final four games.
For Indiana, it's the beginning of a brutal stretch of games to close out the conference season and the final contest of a three-game road trip that started with major disappointment in West Lafayette followed by retribution in Evanston. The Hoosiers have been in every Big Ten road game in the second half, with the exception of Purdue, but being in the game and getting over the hump are two different things.
(Photo credit: David Stluka, UWBadgers.com)
Filed to: Wisconsin Badgers