Hoosiers enter final stretch in Madison tonight against streaking Badgers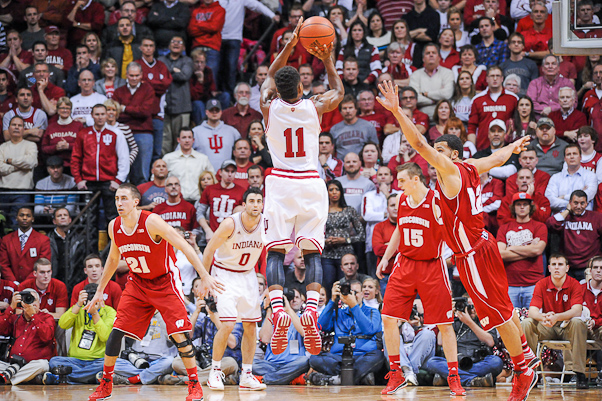 After playing 26 games over a three-and-a-half month span, Indiana's 2013-2014 schedule has come to a fast-approaching conclusion with five games over the next 11 days. Four of those will be against ranked opponents.
And tonight, in Madison, Wis., the Hoosiers (15-11, 5-8) will begin that stretch against No. 14 Wisconsin (22-5, 9-5), a team that's won five straight following its mid-season slump that started with a loss in Bloomington on Jan. 14. Later this week the Hoosiers will face No. 20 Iowa and No. 22 Ohio State, with another two games on slate for next week, as well.
"We are in full preparation for a big week with games on Tuesday, Thursday and Sunday," Indiana coach Tom Crean said. "We are putting everything right now, focus-wise for our team, into Wisconsin.They're playing with extreme confidence."
In the days following the Hoosiers' upset of the then-undefeated, 17-0 Badgers in January, Bo Ryan's squad struggled to regain form. It lost five of six, including games at home to Michigan, Northwestern and Ohio State in a building in which the Badgers rarely lose.
Since then, though, the Badgers have returned to their winning ways, beating Michigan State, Michigan and Iowa all in the month of February. In their four of their five wins this month, the Wisconsin offense has scored at least 1.18 points per possession.
They're now just two games back of the Big Ten lead with four games to go.
"Wisconsin has their system and it works for them, that's why they can go on a 5-game winning streak," sophomore Yogi Ferrell said. "It is going to be a challenge for us to go in there and try to take them out of what they do."
One of the things that makes the Badgers so difficult to stop, Ferrell pointed out, was how, "no matter who is on the court for Wisconsin, they are a threat to score." And over their past three games, no single Badgers scoring threat has been more effective than Frank Kaminsky.
The Badgers' 7-foot center is averaging 21 points per game in that span, most recently scoring 25 and hitting the game-sealing jumper against Iowa last Saturday.
But in addition to trying to stop Kaminsky, who Crean pointed out has an uncanny ability to drive to the basket, the Hoosiers have to also deal with the likes of Sam Dekker, Ben Brust and Nigel Hayes, who have all had 15-point performances in that same span. Traevon Jackson and Josh Gasser are also capable threats who have proven to be effective against the Hoosiers in the past.
"They're obviously hot for a reason," Crean said. "They're playing both ends of the court with great confidence, and we have our work cut out for us. There is no doubt about it."
But stopping Wisconsin will only be the first of many challenges ahead for the Hoosiers this week.
With the sheer amount of games ahead, Indiana got clearance to not take any mandated days off. It means they will be in constant game-preparation, straight through tonight's game until after Sunday's. Ferrell likened this week's stretch to that of his AAU days.
And the Hoosiers are anxious to get it started in a building in which they have not won in since January 1998, against a team as hot as any in the Big Ten.
"We're excited to play," Crean said. "I'm looking forward to getting the week started."
Filed to: Wisconsin Badgers