Crean says discipline for Hanner Mosquera-Perea is "ongoing"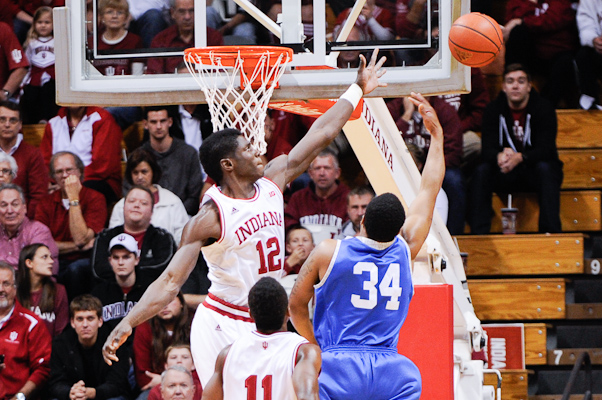 Indiana coach Tom Crean was asked about the status of Hanner Mosquera-Perea during a conference call on Friday morning to preview Saturday's game at Northwestern and provided an update on the status of the sophomore forward.
Mosquera-Perea was arrested on Feb. 14 and charged with operating while intoxicated endangerment and operating with a blood alcohol content above .15.
Here are Crean's comments, in their entirety:
"There's two things. I'm not going to get into a suspension, but as far as his discipline, that is going on daily. And the bottom line is that to get him to a place where he understands what he has here, where he understands the commitment level, not only physically, but mentally, that goes into this. And really, to understand that for him to take the next step as a player, that commitment level, that passion level, that seriousness about this, along with his school work, which he's done very good with, is the most important things to his future. It's certainly the most important things to his present.
"But it's also extremely important to his future and for his career. It's been ongoing, daily. And it will continue to be to the point where he has an uncle in the United States that flew up here to make sure we were all unified on what we wanted for him. And how we were all unified and how we were going to get it. And I really, really appreciated that on behalf of Hanner's family because obviously he doesn't see them and we don't see them. But they're there. And they're just like all of us, they love their son, they love their grandson, they love their nephew, they love their brother as we do.
"The bottom line is we get him, help him to get to a place where he understands what he's capable of where it's not so much about what he could have lost, but what you are capable of when you make the right decisions. And I think that's the discipline … It's the old Lou Holtz, 'discipline is not something you do to someone, it's something you do for someone.' And I think that's living proof right now.
"He's doing all the basketball things that we do, but he's also doing some extra things. We structure his days around that and that's staying within the rules we have and timeframes and all that kind of stuff, but we're maxing all of that out. He's making progress and it's not anything where we can see the progress immediately, but I have no doubt that we're working toward a long term process for him.
"And when I say long term, the suspension and the discipline are two different things. That's kind of how I break that up."
Filed to: Hanner Mosquera-Perea