What to Expect: Northwestern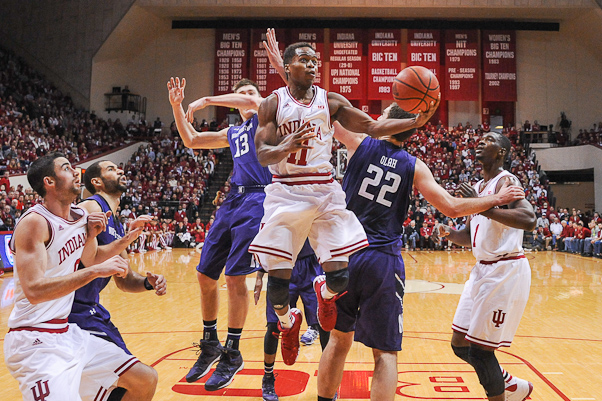 After an unexpected postponement of Tuesday's game with Iowa at Assembly Hall, Indiana travels to Evanston to meet Northwestern on Saturday for the second contest in what is now a three-game road trip. The Wildcats are 12-15 overall and 5-9 in Big Ten play.
The game will be broadcast on BTN at 8:15 p.m. ET and on the IU radio network:
It's been one of the more bizarre and turbulent 10-day stretches in IU basketball history.
Whether the first three game losing streak of season continues beyond Saturday is to be determined, but let's quickly recap the news of the past ten days.
First, IU couldn't finish off Penn State at home after leading by double digits with less than three minutes to play. Then, sophomore forward Hanner Mosquera-Perea was arrested and charged with two misdemeanors. The Hoosiers followed the Penn State game with a blowout loss to rival Purdue, their worst of the season. And then, and this is where the bizarre part comes in, Tuesday's game with Iowa had to be postponed after seats were damaged in Assembly Hall from a piece of metal that fell from the ceiling.
Naturally, this brings up the question: What's next?
With a week off following the Purdue loss, Indiana heads to Welsh Ryan Arena, the most road friendly environment in the Big Ten for the Hoosiers because of a strong alumni presence in the area. This is IU's best remaining chance for a conference road win, but what happens next is anybody's guess.
PERSONNEL
After a stretch where it won four of five league games, starting with a 54-47 triumph in Bloomington, Northwestern has been in a rut as of late. The Wildcats have dropped four straight games, including home games to Nebraska and Minnesota, and easily have the Big Ten's worst offense.
First year coach Chris Collins is dedicating more than 30 minutes per game in conference to five guys with just two others playing more than 10 per game on average. One of those in the latter category is sophomore Dave Sobolewski, who is now barely in the rotation after returning from a concussion that forced him to miss four games.
Collins will also be down a man on Saturday as senior Nikola Cerina, who plays about nine minutes per game in league play, is suspended for throwing a punch in Wednesday's loss at Ohio State.
Northwestern's recent stretch shouldn't be particularly surprising as the Wildcats have been at the bottom of the conference in efficiency margin all season and they've now come back to the mean as some of their luck during that 4-1 stretch has disappeared. It's also possible that the heavy minutes assigned to guys like Drew Crawford, Tre Demps, Jershon Cobb and Alex Olah is beginning to take its toll.
Crawford, a fifth-year senior, has been Northwestern's top offensive weapon in conference play, but his efficiency, like most of the roster, leaves plenty to be desired. Crawford is scoring 15.4 points per game in Big Ten play, but he's hitting just 46.6 percent of his 2s and 29.2 percent of his 3s.
Cobb (11.9 ppg) and Demps (10.7 ppg) have shot it slightly better than Crawford from behind the 3-point arc, but Demps has been dreadful on 2s (39.3 percent). That leaves Cobb as the most efficient of the trio as his effective field goal percentage in Big Ten play sits at 48.6 percent.
Freshman guard Sanjay Lumpkin plays heavy minutes, but has very little impact statistically. He's scored just 38 points in 437 conference minutes and is fourth on the team in rebounding at 4.5 per contest. Sophomore forward Kale Abrahamson is a 3-point specialist who has taken 32 attempts from distance in Big Ten play (31.3 percent) and just 11 2-point attempts.
Up front, sophomore Alex Olah is making 48.1 percent of his 2s in Big Ten play and is fourth on the team in scoring at 8.2 points per game and third in rebounding at 4.8 per game. He'll need to avoid foul trouble tomorrow with Cerina unavailable.
TEMPO-FREE PREVIEW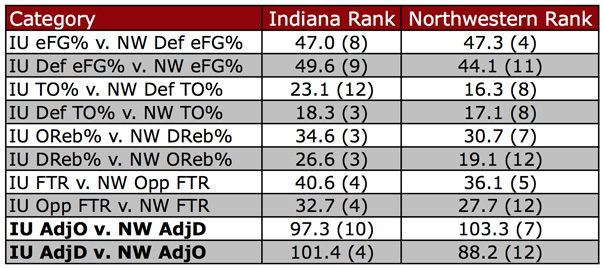 Indiana had its worst shooting performance (28.3 eFG%) of the season in the first game back on Jan. 18 and if the Hoosiers shoot anywhere near their average in league play on Saturday, this is certainly a winnable game.
If you blindly looked at the chart above, it would be hard to convince anyone that Northwestern has one more Big Ten win than Indiana, but this speaks to just how detrimental turnovers and a failure to close out tight games has hampered the Hoosiers.
Northwestern is better than IU in two categories: turnover percentage and effective field goal percentage defense. The Hoosiers have distinct advantages in getting to the line and on the offensive glass, which are two areas that need to be a major part of the focus if IU hopes to emerge victorious. In addition to the abysmal shooting, Indiana was below its Big Ten averages in free throw rate (28.3 percent) and offensive rebounding (27.7 percent) in the game at Assembly Hall.
WHAT IT COMES DOWN TO
While fans didn't want to hear that it was a simple as Indiana not making shots in the first meeting between the two teams, it actually was. The Hoosiers missed 31 2-point attempts and 14 3-point attempts in a seven point loss. Credit obviously must go to Northwestern for stopping Indiana and making clutch plays down the stretch, but it was easily IU's worst offensive game of the season so far.
The computers are expecting another low scoring, close game on Saturday as Pomeroy likes Northwestern by 1 and Sagarin likes Indiana by 1.
Given that IU has held a second half lead in all but one of its road losses in Big Ten play so far, the outcome will be heavily dependent on how the Hoosiers handle second half adversity when it hits. A win would put a stop to the negative momentum of the last 10 days while a loss would send Indiana to Madison looking squarely at the possibility of five straight losses.
Filed to: Northwestern Wildcats