Relationships key as Devin Robinson prepares for visits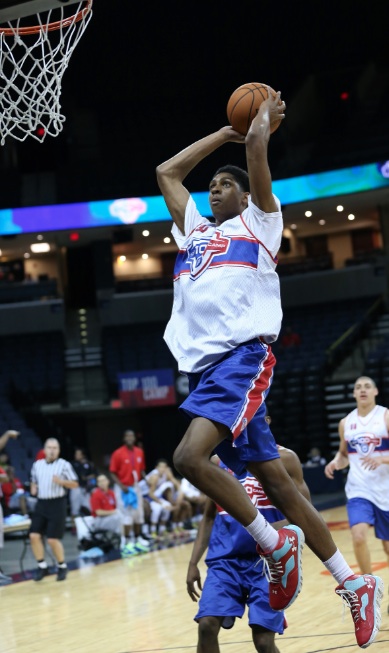 Devin Robinson's rise from fringe top 100 to a five-star prospect nationally was one of the top recruiting stories of the spring and summer.
Now, the Christchurch School (Va.) senior forward is ready to begin the next step of his recruitment as he takes official visits to his finalists.
Indiana is third on his schedule, but the Hoosiers will have Robinson on campus for Hoosier Hysteria the weekend of Oct. 4, which is an ideal weekend to showcase the program.
"I think it was a good strategy by Indiana to get him (on the visit) where he can see what practice looks like and get a feel for the kind of excitement there is for Indiana basketball," Christchurch coach Ben Thompson told Inside the Hall. "I'm pretty sure it was strategic on their part."
Getting to a list of five schools was a process that Robinson and his family took seriously, as he'd amassed more than 20 scholarship offers by the end of summer.
Tony Squire, the director of the Richmond-based Squires basketball program, told Inside the Hall earlier this month that Robinson's mom, Kim, kept a detailed list of the schools that watched her son closest during the three July evaluation periods.
Thompson believes that the programs who built the best relationships with Robinson and his family ultimately ended up on his list of finalists.
Besides Indiana, Robinson is also considering Connecticut, Florida, Notre Dame and Oklahoma State.
"Probably one of the biggest things is the relationships they've built with the coaches and which schools have made Devin a priority," Thompson said. "I think relationships and the schools that really invested time into watching Devin's development throughout the process with the Squires and the AAU circuit. I think they got good advice from Tony Squire and his group as far as schools that they thought Devin could fit in (at). I think all of that was combined into a thought process of where they got to right now."
Thompson, who first met Robinson in the spring of 2012 as his family was considering a reclassification from the 2013 class to 2014 and a transfer from Manchester High School to Christchurch, said the family has a pretty good idea what it will look for during campus visits.
"What the campus looks like and what it feels like is going to be important. Devin is looking for a good relationship with the people who are going to be coaching him," he said. "I think he wants to get a feel for what his potential teammates may look like and how they interact. He's a team player, and he's talked about being around people who are good people and teammates who are going to be good teammates where he feels like he has a good feel or good bond or he can develop some good chemistry with.
"What kind of atmosphere is there, what kind of support is there for the program. I think all of that is going to play a big role in what he's looking for when he gets to campus."
Like Squire, Thompson was complimentary of Indiana's recruiting approach with Robinson, who he calls a "funny, well-mannered and just a real natural kid."
"Coach (Tom) Crean and (assistant) coach (Kenny) Johnson have been in regular contact with the family, including Devin and his parents," Thompson said. "I think they've been pretty aggressive in their approach as far as getting in Devin's ear and making him feel like he's a priority there. Coach Crean and coach Johnson are very active with the family."
Robinson's versatility and ball skills at 6-foot-8 and 170 pounds allows him to play a variety of positions, but he may ultimately project best at the three in college.
In June, Robinson told Inside the Hall that he grew three inches over the past year.
"A lot of people compare him to a younger Jeremy Lamb. He's one person that comes to mind," Thompson said. "He tries to model his game after Tracy McGrady a lot, too. I think he watches a lot of video of Jeremy Lamb, Tracy McGrady and guys that are built similarly to him. I think he's got the shooting ability to play out on the wing and be a three-man.
"And I think he does a good enough job mixing it up to be a four-man because he rebounds very well for his position. He's a great shot blocker and weak side defender. He does a good job of getting his hands on the ball, blocking shots and contesting shots with his length."
(Photo credit: Kelly Kline/Under Armour)
Filed to: Devin Robinson