A look inside the rise of Devin Robinson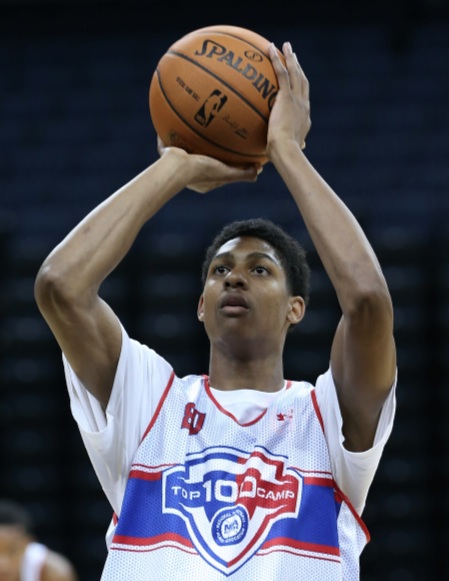 As a 25-year veteran of the grassroots basketball scene, Tony Squire has dedicated more than two decades of his life to helping young people achieve their goals both on and off the court.
He's coached future NBA Hall of Famers including Kevin Garnett and Ray Allen and over 300 others who have received college scholarships that aren't household names.
Squire's perspective as the leader of the Squires Richmond basketball program is unique because he's had a front row seat for the evolution of the grassroots game. So when he talks about the meteoric rise of class of 2014 forward Devin Robinson, he speaks without hesitation.
"He finished his junior year with no offers. No letters or no offers," Squire said. "As a junior in high school. None."
The junior year Squire speaks of was the 2011-2012 academic year at Manchester High School in Chesterfield, Virginia.
Originally a member of the class of 2013, Robinson, along with his parents, made the decision to reclassify to 2014 and transfer to the Christchurch School for his final two years of high school.
It was in that time period that Squire first met Robinson.
"We got involved with him around the spring time of that year (2012). I was introduced to him by one our volunteers, he's a doctor, but his son went to Devin's high school and he kept telling me to come see a couple of kids," Squire recalls. "We'd never really heard of him and he'd played with some smaller programs in the past.
"And we met, talked and the only thing I told his mom was, 'I see something in your son. And I want you to do your background and research our program.'"
Researching the Richmond Squires basketball program isn't hard to do. The program's web site features letters from universities and others in the business who have known Squire for many years.
Still relatively under the radar and without a college offer, Squire immediately began to make calls and tried to get Robinson into some national events.
"We had to bet to get him a spot at the Reebok Camp (in 2012)," Squire said. "By the time he went into his junior year, he was ranked No. 106 or something like that."
As a junior at Christchurch, Robinson continued to improve at a rapid rate. He grew several inches to his current height — 6-foot-8 — and this past spring and summer, he rose to national prominence at events such as the Reebok Breakout Camp, the adidas EuroCamp in Treviso, Italy, the NBPA Top 100 Camp and the LeBron James Skills Academy.
"This was a guy that a lot of people still didn't know about, but was given the opportunity to get on this stage and this platform and perform," Squire said. "If he performed, it would take things to new heights. And that's exactly what happened. I've seen a lot. I would compare Devin's story to the Tracy McGrady ordeal."
The McGrady story is famously remembered because he went to the adidas ABCD Camp in 1996 as an unknown and less than a year later, was a lottery pick in the 1997 NBA Draft.
Squire compared what Robinson has been going through to being in a tornado, but pointed out an important x-factor in keeping him grounded through his rise.
"The key with Devin Robinson, the x-factor that he has, that he is just so blessed to have and will hopefully be the one that stays that way, is the mom that he has," Squire said. "I nicknamed her 'super mom' a while back because she had the super mom squad t-shirt on."
Robinson's mother, Kim, has been heavily involved in the process and even kept notes on which schools were attending her son's games during the July evaluation period. Kim Robinson, a graduate of the University of Virginia, has also been front and center in the family's talks with the various schools that have recruited Devin.
Indiana, along with Connecticut, Florida, Notre Dame and Oklahoma State, are some of the schools Robinson is strongly considering. He'll take an official visit to Oklahoma State on September 13 and Indiana on October 4 for Hoosier Hysteria.
The Hoosier staff maintained a steady presence in July at Robinson's games, according to Squire.
"I noticed Tom Crean at a lot of things and then I noticed that his assistant (Steve McClain) was there," he said. "There were a few schools that had somebody there at all of his events. Indiana was there. Indiana was very visible."
As prominent as he is now, though, Squire is quick to point out that Robinson had zero offers only than two years ago. When they first met, Robinson was a kid Squire saw potential in and committed to help him maximize his potential and get his name out there.
Now, he is one of the nation's hottest prospects.
The irony in it all, as it turns out, is Robinson has stuck out all along. It just took an opportunity to shine.
(Photo credit: Kelly Kline/Under Armour)
Filed to: Devin Robinson