Rising 2014 forward Devin Robinson on Indiana's radar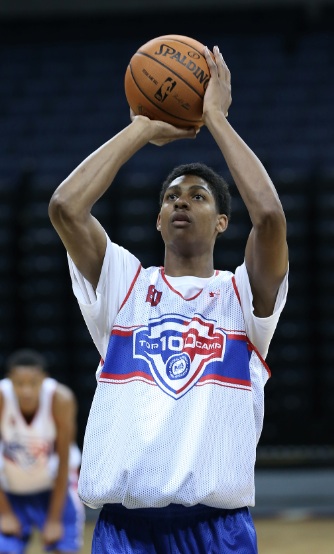 CHARLOTTESVILLE, Va. — Class of 2014 Christchurch, Va. forward Devin Robinson is one of the fastest rising players in the country and Indiana has taken an interest in his recruitment.
Robinson, who has grown three inches over the last year and now stands 6-foot-8, was one of the early standouts at the NBPA Top 100 Camp at the University of Virginia's Paul Jones Arena.
Having just arrived back in the country from the adidas Eurocamp in Venice, Italy, Robinson talked about the booming interest from several schools.
"It's really exciting, I'm very blessed. It just started picking up. I blew up last year and then I kind of mellowed out in the high school, nobody really saw me," he said. "And then I got back on the summer scene, had a chip on my shoulder, just had to go hard again and now I'm starting to get more schools."
Georgetown, Virginia Tech and VCU are the three schools who have already received unofficial visits from Robinson, but he reeled off a long list of schools who are also in the picture for his services.
"Miami, Kansas, Indiana, Texas, UConn, Florida State, Rutgers, Boston U, Xavier, Cincinnati, Louisville, Notre Dame, Oklahoma State," Robinson said. "It feels good that I'm finally getting noticed by the other schools around the nation."
The interest from Indiana is coming primarily from Tom Crean, according to Robinson.
"They've shown a pretty high interest right now," he said. "Coach Crean has been texting me lately and calling me a lot. I have high interest. I don't have an offer yet."
The pitch from Indiana thus far has centered around the program's player development. Two Indiana players — Cody Zeller and Victor Oladipo — are expected to go in the lottery later this month in the NBA Draft.
"They just talk about how they can develop me into a great player like Victor Oladipo," Robinson said. "He likes taking low key guys and making them work hard and just get to the next level."
Robinson, who has a similar build to former IU forward Christian Watford and also has a game that resembles Watford's at times, ran through the strengths and weaknesses of his game.
"Strength, I'm a great team player. I'm a leader," he said. "And a weakness, I'd probably have to say playing with more energy, like having a high motor, just bouncing all around getting rebounds. I got to get that takeover mindset. Right now, I'm a great team player. I think team first. But I think in the future I'll have to think a little bit more about myself. Not like selfish, but get that killer instinct."
Adding three inches to his frame has allowed Robinson to become a more versatile player who can now play around the basket in addition to stepping out and knocking down shots from the perimeter.
"I can get a lot more rebounds, I'm a lot taller than people, create mismatches," he said. "Smaller guards have to guard me and I can post them up. I can block shots on the wing and block shots down in the paint. It's helped me a lot."
The next step in the process for Robinson will be narrowing down his list and deciding which schools will receive official visits, which is something he admitted he hasn't thought much about yet.
He does, however, have a pretty good idea what he's looking for in a school.
"I'm looking for who's in my position already, who else they are recruiting, who they're bringing in and all the obvious stuff like weather, location, academics," Robinson said. "Team has to feel like a family."
Photo credit: Kelly Kline/Under Armour
Filed to: Devin Robinson