Okonoboh to trim list, IU expected to make cut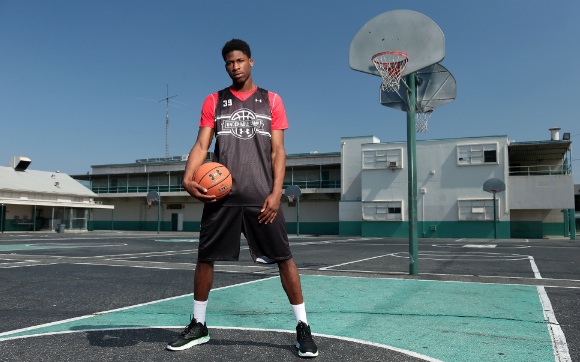 Class of 2014 forward Goodluck Okonoboh is about to take the next step in his recruitment.
A source close to the Wilbraham and Monson (Mass.) senior told Inside the Hall Sunday evening that Okonoboh will trim his list of schools to "no more than five" in the next few days and that there is a "real good possibility" Indiana will be on that list.
After Okonoboh shortens his list, he will take official visits this fall with the expectation of making his decision by the early signing period in November.
Okonoboh is known to be close friends with IU freshman Noah Vonleh, as the two were AAU teammates on Mass Rivals. Since the time he received a scholarship offer from the Hoosiers in April, Okonoboh has spoken with Vonleh about potentially joining forces in Bloomington.
"He's always in my ear about IU," Okonoboh said to a group of reporters in July. "The most humble kid you'll ever meet. He's one of the top players in the country, but he's just a great kid. He knows he doesn't have to talk to me like anybody else would talk to me. We just keep it real with each other."
"I don't know how that couldn't help," Vin Pastore, Okonoboh's AAU coach, told Inside the Hall in July. "So I would say the answer to that would be yes (that it helps). Goodluck is his own guy, but when you have a friend that's already somewhere else and doing well already …"
Okonoboh also has mentioned that finding a program that will help him grow as a player and as a person is a priority.
Indiana seems to fit both criteria with its recent success in the 2013 NBA Draft and a reputation for graduating players early.
"It's a developmental program. Was Victor Oladipo even top 100? Now look at him, the No. 2 pick in the draft," Okonoboh said. "It just shows you from a developmental standpoint, that Indiana is good."
At 6-foot-9 and 220 pounds, Okonoboh is regarded as one of the top shot-blockers in the 2014 class. ESPN.com ranks him as the 19th best recruit in the country, and he has offers from Connecticut, Duke, Florida, Maryland and Louisville, among others.
(Photo credit: Kelly Kline/Under Armour)
Filed to: Goodluck Okonoboh