An early look at the 2013-2014 backcourt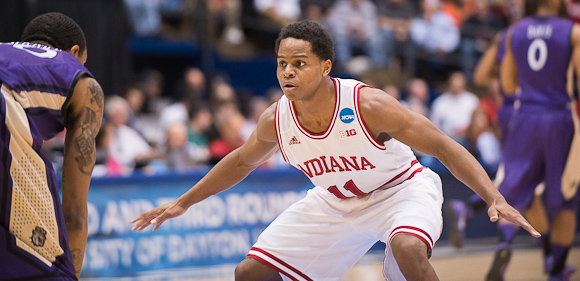 With the official start of practice a little more than a month away, the 2013-2014 season is on the horizon. We'll have comprehensive player-by-player previews this fall, but here's an early look at some of the storylines to keep an eye on with next season's backcourt:
— Yogi takes the reigns: Yes, Yogi Ferrell started every game last season as a freshman. And yes, he was an integral piece of a team that won an outright Big Ten championship at Indiana for the first time in 20 years. But in many ways, it was a season of transition for Ferrell as he adjusted from being the man throughout his high school to fitting into a team with an already established leadership. Now that seven players have moved on from last year's team, Ferrell is the second most tenured player in terms of minutes played at Indiana and will be counted on to lead on both ends of the floor. His freshman season had its share of ups — like his composure in the final 52 seconds a win at Michigan to end the regular season and his offensive display of 16 points against James Madison — and downs — his play against Syracuse in the Sweet 16, zero points and four turnovers — but with a year of experience and bigger things expected of him as a sophomore, it will be Ferrell's time to shine.
— How does Indiana replace perimeter shooting losses? After finishing second nationally in 3-point shooting percentage for the 2011-2012 season and fourth nationally in 2012-2013, how will Indiana replace the efficiency of Jordan Hulls (44.4 percent) and Victor Oladipo (44.1 percent) from the perimeter?  The quick answer: It's not realistic to expect another season in the top five nationally from a percentage standpoint. But improvement from Ferrell (30.3 percent as a freshman) along with smart shot selection from guys like Austin Etherington, Collin Hartman, Evan Gordon, Jeremy Hollowell, Stanford Robinson and Troy Williams will be key in maximizing efficiency and not falling down to 2010-2011 levels (34.6 percent) in 3-point shooting percentage.
— What's Evan Gordon's role? The younger brother of former IU star and New Orleans Pelicans guard Eric Gordon opted to transfer from Arizona State to Bloomington for his final season of eligibility and will likely favor heavily into the rotation. Gordon's primary strengths offensively lie in his midrange game and he's also got an adept floater that he'll use off the dribble. Gordon is a capable scorer, as evidenced by a 29-point outburst against Southern Cal last season and three other games with 20 or more points. Next season will be a bit off a fresh start for the middle Gordon, who came off the bench the final ten games last season at Arizona State and is hungry to play in his first NCAA Tournament in his final season of eligibility. So where does he fit? Gordon can play both guard spots and is a solid defender, which should allow him to either play with Ferrell in some lineups or also play some point guard if needed.
— Highly touted freshmen arrive: Last season, the so-called "movement" arrived in Bloomington and besides Ferrell and Jeremy Hollowell, it didn't really produce much on the court. This incoming class doesn't come with the flashy nickname, but Robinson and Williams appear to be on track for early minutes. Both played highly competitive schedules at their respective prep schools to finish out high school and will help to replace some of the athleticism that was lost when Oladipo declared for the NBA Draft. Once ranked in the top 10 of the recruiting rankings as a junior, Williams fell out of favor with some national scouts who wanted to see him continue to expand his game. If he can tighten up his ball handling, he'll be a factor early. And Robinson, a lefty, can play both guard spots and defend. Because of their size and athleticism, Robinson and Williams can give IU a different look on defense than last season. That's important because this IU team will need defense to generate offense.
Filed to: Evan Gordon, Stanford Robinson, Troy Williams, Yogi Ferrell