Indiana to play four games on ESPN's Super Tuesday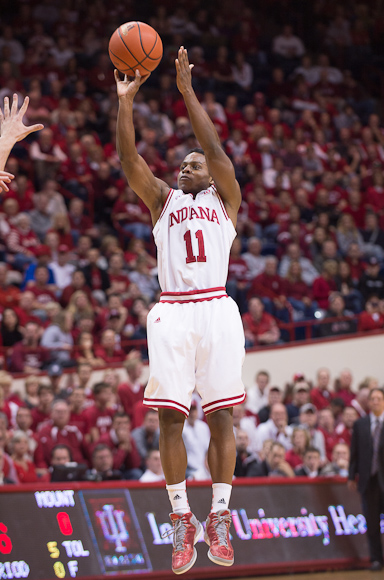 ESPN announced its annual "Super Tuesday" schedule Monday afternoon, and there is a significant Indiana presence on the list.
IU's games at home against Wisconsin (Jan. 14, 7 p.m.) and Iowa (Feb. 18, 9 p.m.), and at Michigan State (Jan. 21, 7 p.m.) and Wisconsin (Feb. 25, 9 p.m.) will be featured, with each game being broadcast live on ESPN.
The Hoosiers lead all Big Ten teams with four games scheduled for Super Tuesday. Iowa, Michigan State and Ohio State each have three games featured, and Michigan and Wisconsin will play twice.
Below is the full release from ESPN:
ESPN has announced its Super Tuesday schedule for the 2014 men's college basketball season – showcasing a game from the Big Ten and the SEC each Tuesday beginning January 7. The ESPN doubleheader will tip-off at 7 p.m. ET, followed by a 9 p.m. game. The Big Ten and the SEC will play conference matchups, switching timeslots on varying weeks, through the nine-week series that wraps up March 4.
All games will be available through WatchESPN, accessible online at WatchESPN.com, on smartphones and tablets via the WatchESPN app, through ESPN on Xbox LIVE to Gold members and on Apple TV to fans who receive their video subscription from an affiliated provider.
The 2013 Super Tuesday series averaged a 1.2 US household rating – marking the highest-rated college basketball weeknight series on ESPN last season.
The Super Tuesday schedule features some of the top teams in the nation according to ESPN.com's preseason top 25 poll. Highlights:
— Eight teams are ranked in the top 25: No. 1 Kentucky; No. 3 Michigan State; No. 7 Florida; No. 8 Ohio State; No. 10 Michigan; No. 20 Indiana; No. 24 Tennessee and No. 25 Iowa.
— Every game in the schedule involves a team in the top 25, including seven matchups where both teams are ranked.
— Top-ranked Kentucky – fielding ESPN.com's No. 1-ranked incoming recruiting class – appears on the schedule five times
–No. 3 Michigan State matches up against three ranked teams: against No. 8 Ohio State on January 7; against No. 20 Indiana on January 21 and at No. 25 Iowa on January 28.
— Nine schools are coming off 2013 NCAA Championship berths, highlighted by Michigan's run to the NCAA Championship title game and Ohio State and Florida advancing to the Elite Eight.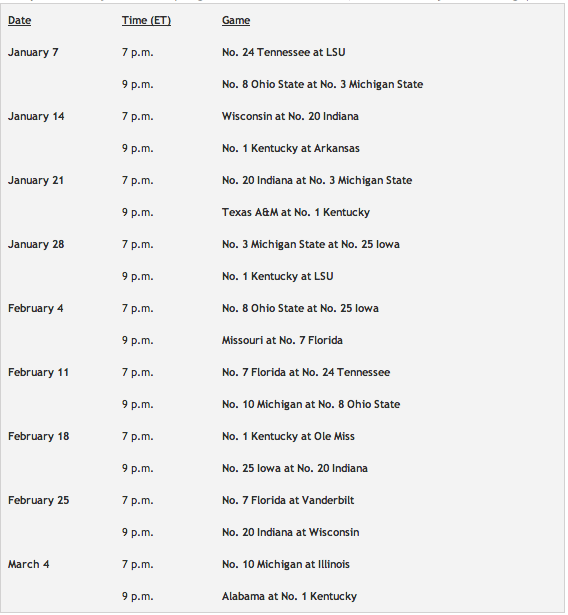 Filed to: ESPN Super Tuesday