Offseason storylines: Expectations for next season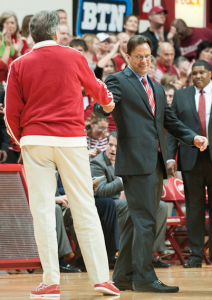 Welcome to offseason storylines, a look into some of the biggest storylines surrounding the 2013-2014 Indiana Hoosiers. Next up, we tackle this question: What will expectations for next season's team look like?
When Tom Crean took the Indiana job in April of 2008, there was an understanding from the school's administration and from the fan base that he would need time to build the program back where it previously been.
In the last two seasons, those that patiently waited with Crean and his team through the dark days were rewarded with back-to-back trips to the Sweet Sixteen, a Big Ten title, and more than a few big wins.
The expectations grew to such an extreme level last year, however, that any time Indiana lost a single game, it was viewed as a letdown and a disappointment by some. Beat Michigan at home, and well, that's what you were expected to do. But lose to Wisconsin and Ohio State, and suddenly, the sky was falling.
Now, with a roster full of freshmen and lacking most of the guys responsible for bringing the program back, where will those expectations go? Will they remain high because the program has been restored and the standards have been reestablished? Or will they lower a bit to match the team's relative inexperience?
I asked Indiana Athletics Director Fred Glass that exact question a few weeks ago.
"Regardless of the program, you gotta take it year by year and calibrate your expectations," Glass told Inside the Hall. "I tried real hard not to set any arbitrary expectations that 'this season is gonna be a bust if we don't win X number of games, don't qualify for postseason play.'
"I'm looking for improvement with what we've got, not necessarily improvement from year to year but improvement from the team that comes in throughout the season."
My guess is the expectation level will be more in line with the 2011-2012 rather than last season. Few people expected much from that team before it beat No. 1 Kentucky in December, and that could again be the case this season.
Truth be told, that's probably the best thing for Indiana. Last year's team didn't always handle the pressure of the giant expectations all that well. If they fall back a bit in the rankings this season and play the role of an underdog, maybe they'll just surprise some people again.
Previously:
· The evolution of Yogi Ferrell
· What kind of season will Sheehey have?
· Will Indiana have a stronger bench?
Filed to: Fred Glass, Tom Crean