Offseason storylines: The evolution of Yogi Ferrell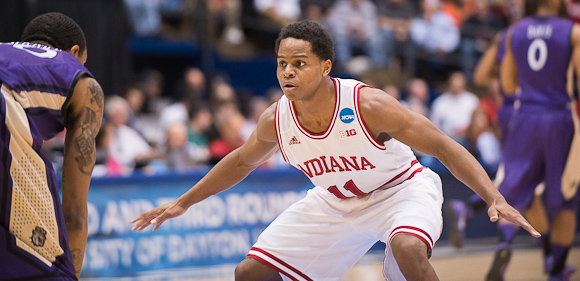 Welcome to offseason storylines, a look into some of the biggest storylines surrounding the 2013-2014 Indiana Hoosiers. Next up, we tackle this question: How will Yogi Ferrell's game evolve as a sophomore?
As a freshman, Yogi Ferrell, was, outside of Cody Zeller, the most scrutinized player on Indiana's roster. The expectations in Bloomington going into last season couldn't have been higher. And many eyes were fixated on Ferrell to see how he would integrate himself into a team that was already established as one of the nation's best.
It's always difficult for a freshman to adjust to the college game. It's faster, far more physical and for Ferrell, there was a major adjustment in the role he would take on. For the bulk of his AAU and high school career, the ball was in Yogi's hands and he was asked to make plays. It was a successful recipe for the teams he played on as Park Tudor went to three consecutive state championship games, winning two, and Indiana Elite won at a high level in various spring and summer events.
But in his first season in Bloomington, Ferrell was mostly asked to be a facilitator, a role in which he posted an assist rate of 25.4, good for eighth in the Big Ten. Beyond that, the rest of his offensive numbers were meager, which isn't a knock on Ferrell but more of an endorsement of just how elite Indiana's offense was.
The circumstances will change significantly when the 2013-2014 season begins. Ferrell won't have the nation's most efficient big man in Cody Zeller to find for six points in 52 seconds like he did last March in Ann Arbor. Victor Oladipo won't be on the wing waiting to make a play off the dribble. And Christian Watford and Jordan Hulls won't be hanging around the 3-point line looking for a pass.
That's not to say Ferrell won't have other, viable options surrounding him next season — he will — but they certainly will not have the experience or in some cases, the talent last year's group possessed. Which leads us to wonder: How will Ferrell's role change next season? Will he take on more of a scoring role? Or is Indiana best served with keeping Ferrell as its facilitator and not asking him to score more?
If Ferrell's efficiency numbers (105.3 offensive rating, 45.3 effective field goal percentage per KenPom.com) as a freshman are your guide, you can argue that it might not be a good thing for the sophomore to look for more offense. Of IU's regulars a season ago, his effective field goal percentage was the lowest.
But you can also argue that Ferrell's shooting percentages will be on the upswing with an offseason of working on his jumpshot as well as getting more regular shot attempts. When you're the fifth option on offense, it's not always easy to get in any sort of rhythm.
"I have been mainly working on my jump shot this offseason. That's one of the things I know I need to do better with," Ferrell said last week. "I feel a lot more confident coming back because I know what to expect this year, whether it's practices or games."
For Ferrell to maximize his productivity next season, there are two key areas he'll need to improve upon. First, Indiana needs him to become its best perimeter defender. With Oladipo moving on, Ferrell needs to lead the charge of containing dribble penetration on the perimeter. What, you might be asking yourself, does that have to do with his offense? If Ferrell can create more turnovers and opportunities to score in transition, it's a good bet he'll score more and become more efficient. As a freshman, Ferrell scored just .88 points per possession in transition according to Synergy Sports, a mark well below average nationally.
Second, his midrange game must improve. Indiana's offense is pick-and-roll heavy and Ferrell scored just .75 points per possession as the ball handler in pick and roll situations last season (per Synergy Sports). Being able to knock down that shot with consistency will force defenses to play Ferrell tighter and will give him more of an option to get into the lane and either finish or create for others.
Just as there was last season, there will be an adjustment period for Ferrell. He'll be surrounded by seven newcomers and will have tendencies of new teammates to learn all over again. His role will also evolve from a player who mostly facilitates into a player who scores more and does so efficiently. How quickly Ferrell is able to strike the perfect balance between facilitator and scorer will play a major factor in Indiana's viability as a Big Ten contender in 2013-2014.
Previously:
· What kind of season will Sheehey have?
· Will Indiana have a stronger bench?
Filed to: Yogi Ferrell