Offseason storylines: Will Indiana have a stronger bench?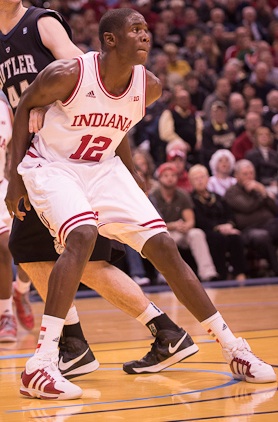 Welcome to offseason story lines, a look into some of the biggest storylines surrounding the 2013-2014 Indiana Hoosiers. First up, we tackle this question: Will Indiana have a stronger bench next season?
Indiana's depth was lauded as a strength going into the 2012-2013 season. With Will Sheehey, Remy Abell and Derek Elston all returning and a loaded 2012 recruiting class arriving, much was expected of Indiana's second unit.
But when the dust settled following IU's 60-51 loss to Syracuse in the East Region semifinal in Washington D.C., the performance of the bench left much to be desired with the exception of Sheehey, who walked away with Big Ten sixth man of the year honors.
Abell, who lacked confidence, disappeared during the conference season and averaged just 2.0 points on 32.4 percent shooting. Elston could never stay healthy and played in just 19 games. Jeremy Hollowell showed flashes of his potential, but struggled with his shooting (44.8 eFG%). Everyone else was essentially a non-factor when the competition rose to the highest level.
While Indiana is headed for a drop off in its first unit with the departures of Cody Zeller, Victor Oladipo, Jordan Hulls and Christian Watford, will the Hoosiers have a stronger bench to rely on next winter?
To being tackling this question, we must first recognize that it's highly unlikely that Indiana will have the consistent starting lineup it had a season ago. Tom Crean started the same lineup in every game but one in 2012-2013, but with roster turnover that includes seven new scholarship players, a set lineup may not become a reality until Big Ten season rolls around.
Assuming Yogi Ferrell maintains his spot as a starter at the point, Will Sheehey jumps into the lineup as the team's leading returning scorer and five-star forward Noah Vonleh assumes a spot on the frontline, the other two spots could go in a variety of directions. Rather than speculating how those spots may shake out, let's examine the depth of the roster beyond those three players (in no particular order):
Guards/Wings: Evan Gordon, Troy Williams, Stanford Robinson, Collin Hartman, Austin Etherington, Jonny Marlin
Forwards/Posts: Luke Fischer, Jeremy Hollowell, Devin Davis, Hanner Mosquera-Perea, Peter Jurkin
Regardless of how the the final backcourt spot shakes out (Gordon/Robinson/Williams), that leaves two guys who are capable of giving Crean the luxury he didn't enjoy last season: Not having much, if any, drop off when going to the bench. It is, however, important to note, that some drop off has to be assumed when you're subbing in Abell for a lottery pick in Oladipo, a McDonald's All-American in Ferrell or a 1,000-point scorer in Hulls. Because Indiana won't be as strong in its starting lineup next season, it's much more reasonable to expect less of a drop off when the bench is deployed.
At 6-foot-4, left-handed and wired to attack, Robinson comes to Bloomington having just played a national schedule against the the best competition at Findlay Prep. The same can be said for the competition Williams, who is perhaps the most athletic incoming recruit in the Big Ten, faced at Oak Hill Academy. And Gordon, who is 22, already has three years of experience at Liberty and Arizona State.
Not mentioned in that conversation are Hartman and Etherington, one of whom figures to get a look as a guy who can stretch the floor and Marlin, who can provide point guard depth and was a low-major scholarship player at IPFW before transferring to IU as a walk-on.
Top-to-bottom, that mix of players seems to be an upgrade over Sheehey, Abell and Maurice Creek, which is what Indiana had at its disposal off the bench in the backcourt last winter.
The frontcourt situation is less certain, but there is still reason for optimism from a bench perspective. Fischer, a top 35 player according to ESPN.com, appears to be the front runner to take the majority of Zeller's minutes at the five. That leaves a potential core of Hollowell, Davis and Mosquera-Perea to come off the bench. Crean talked favorably about Hollowell and Mosquera-Perea a couple of weeks ago and Davis, who doesn't really have a true position, is going to bring energy and toughness.
Hollowell and Mosquera-Perea were two of the primary frontcourt backups a season ago and assuming both guys make offseason strides, should be more ready to make an impact. That leaves the primary swap as Davis for Elston, which is an upgrade from a talent, energy and health perspective but a downgrade in experience.
Overall, it's reasonable to predict that Indiana's bench will be better next season and it could be improved by a significant margin. Losing Abell and Creek and replacing them with Gordon, Robinson and Williams is without doubt an upgrade and if Hollowell and Mosquera-Perea enjoy an offseason of development, there's no reason Indiana won't be able to go nine or ten deep on a consistent basis.
Filed to: 2013-2014 season preview