The Inside the Hall Mailbag: August 12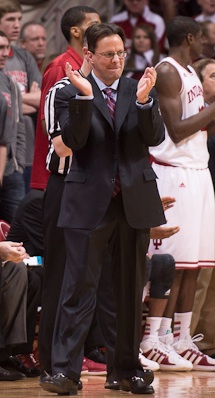 The Inside the Hall Mailbag is a collection of questions tweeted to us via Twitter (@Justin_Albers or @insidethehall) and sent to us via our Facebook page. Submit your questions and we'll answer as many as we can.
@jaktucke writes: Do you think CTC needs to adjust his strategy toward recruiting, esp regarding early offers? #iubb #ITHMailbag
There's been a lot of discussion about this since Blackmon Jr.'s decommitment, but quite frankly, I don't think he needs to adjust anything. The simple fact is if you want to be a player on some of the nation's top recruits, you need to start early on some of them. Coaching staffs go into it with the mindset that some early offers will pan out and some won't. That's just how it is. Some kids will undoubtedly become stagnant in their development due to the early attention, and others will continue to work. Just because Trey Lyles and James Blackmon Jr. decommitted after making early commitments early doesn't mean Crean and his staff did anything wrong or should change their approach going forward. It happens. If Eron Gordon commits tomorrow, I don't think anyone's going to complain.
The "how early is too early" discussion is one we'll continue to have down the road because the recruiting process is going to continue to start earlier and earlier. By definition, the NCAA considers seventh and eighth graders recruitable prospects. — Justin Albers
@NoahWhyde writes: No chance at Blackmon?
I won't say no chance, but it's definitely a long shot. Less than 24 hours after James Blackmon Jr. announced his decision to reopen his recruitment, he had an offer from John Calipari and Kentucky. His father played there, and I think there's a good chance he'll end up in Lexington. Plus, it seems Indiana is moving on from Blackmon Jr., given their pitch to Brooklyn guard Isaiah Whitehead. — Justin Albers
@All_Hoosiers writes: What are #iubb's realistic chances to land Whitehead? Any prediction on what the 2014 recruiting class will look like?
Even though they're getting in late, the Hoosiers are a factor in Whitehead's recruitment. He hadn't ever heard from Indiana coach Tom Crean before getting a phone call on Friday, but the two talked for almost an hour and Whitehead has significant interest in the program. He plans to take an official visit to Bloomington next month. Whitehead is the type of kid that definitely noticed the Hoosiers put two players in the top four of June's NBA Draft. Getting to the NBA is his No. 1 priority for selecting a college, so I think Indiana will be a major player with him.
As far as what the 2014 recruiting class will look like, that's a little harder to answer. I do think Indiana is in great shape with big man Michael Humphrey and guard Robert Johnson. Indiana also seems to be in good shape with guys like Quentin Snider, Whitehead and LeRon Black, who will reportedly visit next month. I see it as a three-player class. — Justin Albers
@JenGawne writes: Is it (recruiting) this much of a roller coaster every year?
Not this much of a roller coaster because you don't always have a decommitment, but ups and downs are typical of the recruiting trail. That's just how it is. You're going to win some and lose some. — Justin Albers
@Rich_Park writes: What are the odds we get Stephen Zimmerman? Haven't seen his name thrown around IU recruiting discussions.
It's still really early in the game for Zimmerman, especially as it pertains to Indiana. The Hoosiers didn't offer until July, and he continues to be suited by many of the nation's top programs. Indiana's development of Cody Zeller should help with the pursuit of Zimmerman, but it's far too early in the process to give any sort of accurate odds on the Hoosiers landing him. — Justin Albers
@hoopstrainer writes: It seems combo guard is a priority. Who is the priority for 2014? Exum, Johnson, Whitehead, or other?
I don't know that there's any one "priority" in the 2014 class. Exum is a priority, but his stock in the 2014 NBA Draft is rising. At this point, I'll say Robert Johnson is the Hoosiers' guard priority. He will take a visit to Bloomington in less than two weeks. — Justin Albers
@jusgolds writes: Any idea when the schedule will be released?
Watch for it sometime later in August once the Big Ten schedule is released. Indiana plans to release the rest of its' non-conference games at that time. — Justin Albers
@scottybower writes: Which IUBB targets have said when they would announce?
That's a hard one to answer because you never quite know when a kid will commit. He may say one thing, be blown away by a visit, and then change his timetable. Troy Williams was that way last year. With that said, Whitehead, Johnson, Snider and Humphrey have all said they plan to decide by November. Exum will likely take a little longer, if he decides to attend college. — Justin Albers
@JasonGBrewer writes: Do you think fan posts on social media really has any impact (positive or negative) on recruits?
I don't know for sure, but I don't think it has a major impact. Attention from fans on Twitter, positive or negative, may be a small factor at times — Indiana recruits always mention the fans — but I doubt that's one of the major things they consider when making their decision. — Justin Albers
@FireJoelOsteen writes: With Blackmon out, Ahmed Hill should be more interested in IU, but the offer to Whitehead suggests he is not. Thoughts?
Great point. We hadn't heard much about him lately, so I got in touch with Hill on Sunday afternoon. He said he still hears from Indiana, but not as much as before. He had previously mentioned Indiana as one of the four schools pursuing him the hardest. Hill said Crean texted him after Blackmon Jr. decommitted to ask if he was still serious about the Hoosiers. His response: "Of course. Since day one."
He told me he doesn't yet know if he will take a visit to Bloomington, but didn't know Whitehead had been offered. My guess is Crean and his staff have been intrigued by Whitehead's strong summer and he has passed Hill on their wish list. Just a guess, but that's my take. — Justin Albers
HoosierAsh (forum subscriber) writes: What are the chances of IU getting seriously involved with Bryant McIntosh from Greensburg and is IU recruiting Tucker Blackwell at all at this point?
Indiana has contacted McIntosh, but have not yet offered him a scholarship. I think he's probably a guy they wait on to see how things develop at this point, but the Hoosiers would be a major player in his recruitment if they do offer. — Justin Albers
Filed to: Isaiah Whitehead, James Blackmon Jr., Tom Crean