Exum in "unique position" as he weighs college vs. NBA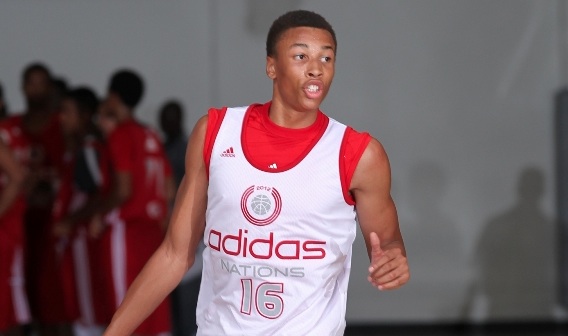 As one of the top prospects in the class of 2014, Dante Exum has no shortage of suitors that would like to bring him to a college campus.
But Exum's situation is different than most of the elite 2014 prospects who will enroll in college next summer. The 6-foot-6 combo guard, who plays at the Australia Institute of Sport (AIS) in Canberra, could skip college altogether and go straight into the 2014 NBA Draft, which further complicates his recruitment.
"He's in the unique position of not only being eligible for next June's NBA Draft because as an international player he turns 19 in the year of the draft, but what makes him unique is he graduates high school in November," ESPN college basketball and NBA Draft analyst Fran Fraschilla told Inside the Hall. "If in fact he passes on the NBA Draft until 2015, he's got a couple of more decisions to make. And they are: Does he enroll in college in December or does he enroll next September?"
Indiana is the only school to receive an official visit from Exum thus far, but his play in recent months has fueled speculation that he could forgo college altogether and go straight to the NBA.
He was dominant in the FIBA U19 World Championships in Prague, Czech Republic earlier this summer and after his play at that event, Exum moved up to No. 3 overall in the Draft Express 2014 NBA mock draft.
"In my opinion, and some other people share this, he could go as high as No. 1," Fraschilla, who covers international prospects for ESPN, said. "But I doubt seriously he's going any lower than five. So the schools that are recruiting him now have got to look at it like it's a pipe dream if they get him because they may not ever see him on their campus."
Exum's situation is different from many international prospects because his father, Cecil, was born in the United States and played at North Carolina, where he won a national championship in 1982.
The opportunity to compete for a championship before moving on to the NBA could be appealing to Exum.
"If he goes to college, he has the legacy of what his dad accomplished at North Carolina, albeit as a role player," Fraschilla said. "So he's accustomed to knowing the stories about his dad playing with Michael Jordan, James Worthy and Sam Perkins, etc. There's the legacy of his dad going to college and there's also the idea that he'll only be 20 years old if he's in the 2015 NBA Draft."
Exum burst onto the radar in the United States with a spectacular performance at last summer's adidas Nations and has continued his ascent since that time.
His most recent display of dominance came in Prague where he led Australia to an upset of Spain in the FIBA U19 World Championship quarterfinals with 33 points, five rebounds, four assists and four steals. He was fouled 18 times in the game.
Fraschilla was in Prague for that event and came away convinced that Exum is one of the top young players in the world.
"I've really keyed in on him the last 12 months and he's got some Michael Jordan in his game," Fraschilla said. "That's not to say that he's going to end up as one of the great players of all-time, but he moves and plays like a young Michael Jordan. He can play the one, he can play the two, he can shoot the 3, he can defend, he can slash to the basket, he gets to the rim effortlessly. There's some similarities there.
"At 18 right now, you've got to throw him in with (Jahlil) Okafor and maybe one or two other guys as the best young players in the world. So if he gets drafted next year, and he's in the top five picks, he goes No. 3 or No. 4, it means teams value him as potentially a great player."
As for his recruitment stateside, Exum's visit to Bloomington is the only one he's taken thus far. At the FIBA U19 World Championships, Exum said he would look closer at his recruitment and his next move at the conclusion of the event.
Besides IU, schools like Boise State, Colorado, Duke, Georgetown, Indiana, Louisville, Kentucky, LSU, Michigan, Ohio State, Oregon, Southern Methodist, UCLA, Vanderbilt have all been mentioned as potential suitors.
"The schools that are likely going to recruit him the hardest are going to look at him like the dessert after a great meal," Fraschilla said. "Like, 'let's just eat our meal and if Dante decides to enroll at our school, it's like getting a great desert after the meal.' You can't put all of your eggs in his basket."
Filed to: Dante Exum