Film Session: Minnesota's run
After a Victor Oladipo score with 15:42 to go in the second half, the Hoosiers found themselves up eight (44-36) and perhaps on their way to assuming control of the game for another road Big Ten victory. From there, the Golden Gophers went on a 10-2 run, tying up the game at 46-all at the 10:51 mark. It was a key run in the game, a momentum swing after the Hoosiers had held Minnesota scoreless for the preceding four minutes.
A look at how it all went down the latest edition of Film Session:
I. After an inbounds pass off the baseline, the Hoosiers sink into a 2-3 zone defense. Maverick Ahanmisi swings the ball to Joe Coleman on the left wing: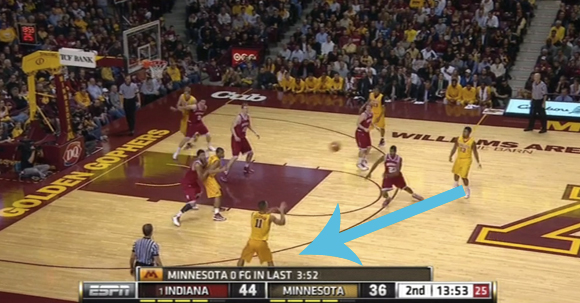 Coleman passes the ball back to Ahanmisi, and a weak Rodney Williams Jr. pick allows some room for him to drive into the middle of the zone: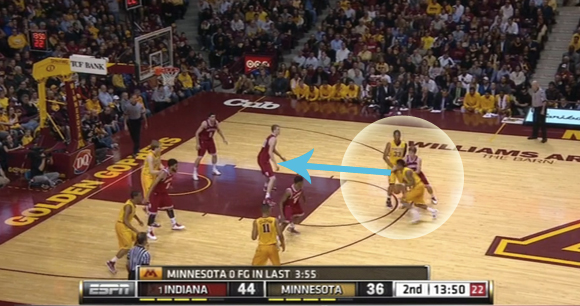 With the Indiana defense collapsing to the middle, Ahanmisi finds Elliott Eliason on the left block: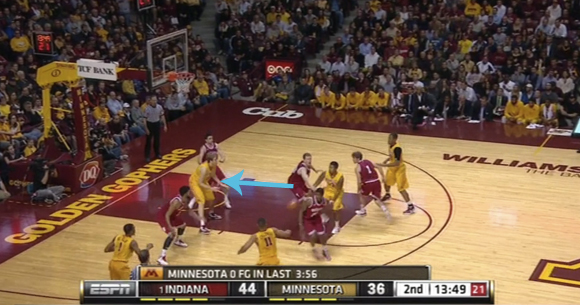 Assuming a shot, the smaller Jordan Hulls gets a body on Williams Jr. for a block out. Remy Abell has drifted out to the left wing. This gives Ahanmisi space up top as he floats back beyond the arc and receives a pass from Eliason: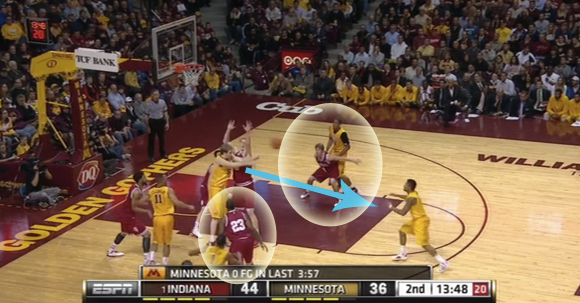 It's too late a close out by Hulls, and Ahanmisi splashes the trey: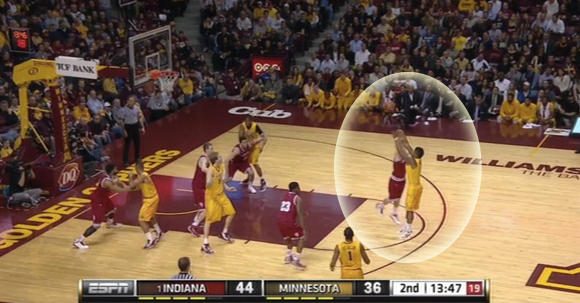 While the Golden Gophers were poor from beyond the arc for the game (4-of-20), Ahanmisi wasn't. He hit half the team's total (2-of-4) and this was a key bucket to get the ball rolling for Minnesota.
Video:
Filed to: Minnesota Golden Gophers