Notebook: Hollowell remains out with 'personal and private matter'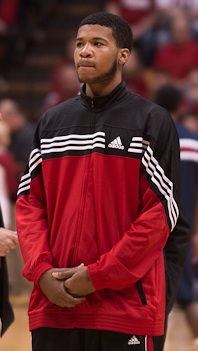 Freshman forward Jeremy Hollowell missed his second consecutive game Friday night due to what Indiana coach Tom Crean said was a "personal and private matter." Unlike Wednesday night, Hollowell wasn't even in uniform for Friday's game against Florida Atlantic. He sat on the bench in sweats.
Following No. 6 Indiana's 88-52 victory over the Owls, Crean opened his postgame press conference with a prepared statement about Hollowell.
"Jeremy is dealing with a personal and private matter that is in no way related to academic, behavior or disciplinary issues," Crean said. "He has our full support as we look for a quick resolution, and out of respect for he and his family, we will not discuss it any further."
Hollowell is averaging 5.7 points and 3.0 rebounds per game this season. He last played in the Hoosiers' 88-86 overtime loss to Butler on Dec. 15.
Perea getting more comfortable, Jurkin plays
While fellow freshman Hollowell sits out, Hanner Mosquera-Perea continues to get more and more comfortable on the floor for the Hoosiers.
Perea was suspended for the first nine games of the season, and he is clearly still a work in progress. But in his third appearance of the season against Florida Atlantic, Perea showed several positive signs.
The 6-foot-8 forward had four points, 10 rebounds, an assist and two blocked shots in 14 minutes.
"That was the quickest 10 rebounds I've ever seen," sophomore Cody Zeller said. "That's what he does. He's good at that."
Perea did have three turnovers, caused mostly by his inability to grab or hold onto the ball on a couple of occasions. On one play, Perea was wide open under the basket and the Assembly Hall crowd began to anticipate an electric dunk. But Perea failed to look the ball into his hands and dropped it.
"I already knew what kind of dunk I was going to do," Perea admitted after the game.
Added Crean: "I thought he played well. We reminded him that you actually have to catch it before you dunk it because I think he had a couple SportsCenter plays in mind before he caught the ball. But he'll be fine. He's still feeling his way through things."
Perea did throw down one emphatic dunk in the first half — his first of the season — in a pick-and-roll with Christian Watford. His other basket came in a tip-in shortly thereafter.
"I thought he did a great job," junior Victor Oladipo said. "He went out there and played defense and rebounded at a high level. That's what we're going to need him to do in order to win. He has to use his lanky arms for something. When he catches the ball, we expect a highlight-reel dunk. We're looking forward to seeing a lot of those down the road."
Freshman center Peter Jurkin, who also sat out the first nine games with a suspension, saw his first game action of the season on Friday night. He, too, looked somewhat raw in his four minutes on the floor. Jurkin missed his only field-goal attempt and did not record a rebound.
"I was happy for him," Perea said. "I've known him since I came here to the United States. Just seeing him out there playing today was a great thing because we've been out together, we've been pushing each other, we've been helping each other through all these problems."
Etc.
· Zeller gets aggressive: Indiana fans have long clamored for the sophomore center to show more aggressiveness, and he did so on Friday night. Zeller finished with a season-high 24 points — two short of his career-high — and six rebounds in 22 minutes. Zeller was 6-of-9 from the field and 12-of-13 from the foul line.
"I need to be more aggressive overall," Zeller said afterward.
· Elston still trying to find rhythm: Senior forward Derek Elston, who missed the first 10 games of the season after having knee surgery, was 0-of-5 from the field and didn't score in 10 minutes against Florida Atlantic, his second game back. Elston also missed his two attempts from beyond the arc.
"He had really good looks," Crean said. "He just doesn't have the legs where they need to be yet, he doesn't have the rhythm of his shooting. He got a little frustrated because he missed some open shots, but he's a couple of jump shots away from having his confidence back where it needs to be."
· Jarvis praises Indiana, Assembly Hall: Florida Atlantic coach Mike Jarvis had nothing but good things to say about Indiana following the game. He was especially fond of Assembly Hall and the atmosphere inside it.
"I told my guys before the game to look around. 'Look at this crowd. Look at these people. This is what an NCAA game is like.' It was wonderful. You have to enjoy places like this. I think there are three places in America that are superior to any other three. This is one of them, Cameron Indoor Stadium and Allen Fieldhouse. Kentucky is good, but Rupp Arena does not compare with this."
Jarvis' Owls have also played at North Carolina this season, but he said the atmosphere was much better in Bloomington on Friday night.
"No comparison," he said. "This place is electric. I love North Carolina fans, but these people are in it. They don't have to wait until their team is down. This is Indiana, baby. This is Hoosier Country. Anybody who hasn't seen 'Hoosiers' should probably go home and watch it. I may go home and watch it myself. It's just a great basketball feel and vibe."
Filed to: Hanner Mosquera-Perea, Jeremy Hollowell