Noah Vonleh joins Indiana's 2013 recruiting class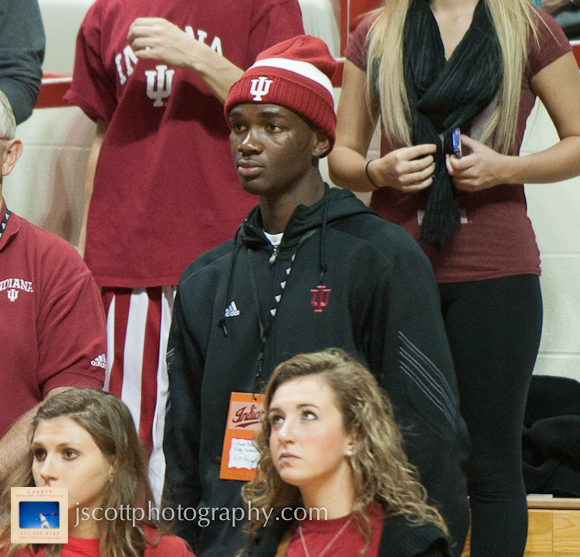 Just over 24 hours after arriving in Bloomington for his official visit, 2013 New Hampton Prep (NH) forward Noah Vonleh decided he'd seen enough to make a decision.
So Vonleh, who made his first official visit with his mother, committed to the Hoosiers on Saturday night. His high school coach, Pete Hutchins, confirmed the news to Inside the Hall late Saturday night in a text message.
He's the sixth verbal commitment in the 2013 class for the Hoosiers and the No. 8 prospect nationally according to ESPN.com.
Vonleh had also been considering Connecticut, Georgetown, North Carolina, Ohio State and Syracuse after deciding to reclassify on Sept. 24.
The 6-foot-8 forward attended IU's season opening win over Bryant on Friday night and drew chants of "We want Noah," from a soldout Assembly Hall crowd.
The five-star forward told ESPN.com that the intensity of IU's pursuit was a major factor in his decision.
"From day one, Indiana has been recruiting me the hardest," Vonleh told Adam Finkelstein of ESPN.com. "They were just letting me know how they could develop me into the player I want to be at the next level. Their academics are good, they're the No. 1 team in the country, and they've got another great class coming in next year.
"They said next year I could come in and be one of the main guys," he added. "They're going to lose Christian Watford, and probably [Cody] Zeller, so they want me to come in and be a big piece right away."
Vonleh joins Troy Williams, Stanford Robinson, Luke Fischer, Collin Hartman and Devin Davis in IU's 2013 class.
Inside the Hall will have more on this developing story.
Related:
· Vonleh's coach talks about decision to reclassify
· Video: Noah Vonleh adidas Nations highlights
· Vonleh leads USA Red 2014 to adidas Nations championship
· Vonleh's coach: "He's a kid that doesn't have any kinks in his armor"
Filed to: Noah Vonleh