Anya hearing the Indiana pitch from Robinson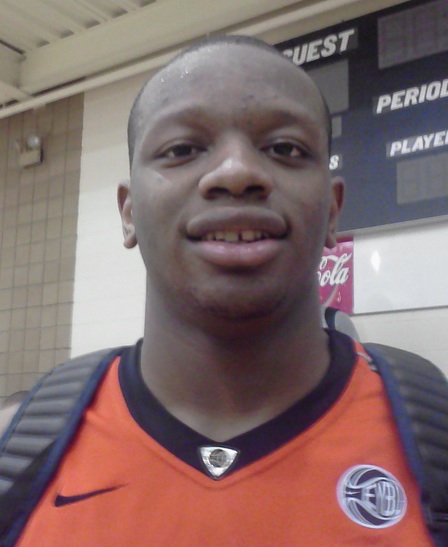 NORTH AUGUSTA, S.C. – BeeJay Anya and Stanford Robinson are good friends and AAU teammates who talk about many things.
Indiana is one of the topics.
Robinson committed to the Hoosiers shortly after an unofficial visit in May and is trying to sway Anya to join him at Indiana.
"It's all the time, all the time," Anya said. "He's just telling me to come; keep the tradition going."
Anya told Inside the Hall at the Nike Global Challenge earlier this month that one of his five official visits will likely be to Blomington.
"I'm very interested in them," the DeMatha center said. "I'm not sure, but I think I want to take an official visit there."
Anya and Robinson are both 2013 prospects and teammates on Team Takeover. At the EYBL Finals at the Nike Peach Jam, Team Takeover went 3-2 to finish one game back of making it out of pool play.
Team Takeover did win its final three games, however, including a 74-51 rout against All Ohio Red on Saturday morning.
Anya averaged 8.2 points, 3.6 rebounds and 2.4 blocks in 16.8 minutes per game at the Peach Jam.
As for his recruitment, Anya said Indiana, Ohio State, Syracuse, Texas, Kansas, Georgetown, DePaul and UCLA talk with him the most.
His primary contacts with the Hoosiers are Tom Crean and assistant coach Kenny Johnson, who was hired in June and formerly led Team Takeover. Current IU players Maurice Creek and Victor Oladipo are also Team Takeover alums.
"He's a really good guy," Anya said of Johnson. "I've known him for a little while now. He knows my family very well."
Recent conversations with Johnson and Crean are about some of the positives Anya could see if he went to Indiana, and those involve more than winning championships.
"They just say how I can be special if I was to go there," Anya said. "They say how much better I could get working with their coaches and strength and conditioning people and how much bigger and stronger I could get."
Wayne Staats is a sports reporter at The Augusta Chronicle, where he's covered high school sports since August of 2010. He's reporting this week from the Peach Jam for Inside the Hall.
Filed to: BeeJay Anya