Indiana likely to receive one of Anya's five official visits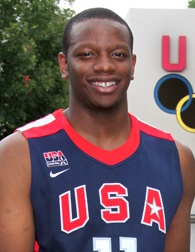 ALEXANDRIA, Va. – With IU assistant coach Kenny Johnson sitting courtside at the Nike Global Challenge, 2013 center BeeJay Anya (Gaithersburg Md./DeMatha Catholic) didn't disappoint.
In the USA East's game against China – a blowout victory – Anya used his big body to push around his opponents.
He finished with 12 points, eight rebounds and four blocked shots. Most of his scoring came either off tip-ins or dunks.
After the game, the 6-foot-9, 275 lb. Anya reiterated his strong interest in Indiana.
"I talked to coach Kenny (Johnson) on Monday when I was at the airport in Chicago," Anya told Inside the Hall. "I'm very interested in them. I'm not sure, but I think I want to take an official visit there.
"They think I'll be able to contribute and get better as a player. They'll take care of me and will make me feel like I'm at home."
Other schools coming at him hard right now include Louisville, Kansas, Texas and Ohio State.
He said the biggest thing he wanted to work on this summer was slimming down and adding muscle. An event that helped was the FIBA U17 World Championships in Kaunas, Lithuania on June 29 where Anya's USA basketball U17 team earned the gold medal.
"It was a great experience because we won," he said. "It was good playing against different types of competition and watching different styles of play."
Anya, who said he plans to take all five official visits, has no timetable for a decision at this point.
More from Anya
On the Global Challenge:
"It's been good. A lot of good teams out here. It's a good experience to play in front of these college coaches. It's been great."
On slimming down:
"I still want to slim down and bulk up a little bit. Tone a little bit more and get ready for the college level."
On Victor Oladipo and Stanford Robinson:
"It means I'll know someone there. It's not a huge impact. Stan and Victor are both like my brothers. Me and Stan have been boys for a long time. I know if I go there, I may have a roommate that I know. I'll also have a guy who can look out for me on campus."
Filed to: BeeJay Anya