Recruiting Roundup: Nike EYBL Dallas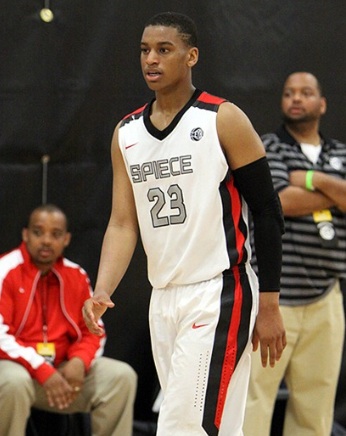 The third of four Elite Youth Basketball League (EYBL) sessions took place over the weekend in Dallas as some of the top Nike travel teams from around the country battle for position in the Peach Jam, Nike's premier event of the summer.
Here's a look at how Trey Lyles and several of IU's recruiting targets performed statistically over the weekend as well as some scouting notes from those in attendance:
· Trey Lyles, Spiece Indy Heat: It was a tough shooting weekend (39.6 percent) for Lyles, but he did finish the weekend with a pair of double digit rebounding games. His average numbers over five games: 9.6 points, 9.0 rebounds, 2.2 assists and a block in 27.4 minutes.
· Trevon Bluiett, Spiece Indy Heat: Bluiett scored in double figures in all five of Spiece Indy Heat's games and finished the weekend with a scoring average of 17 points. As he continues to diversify his offensive game, his stock should continue to rise nationally.
· Jaquan Lyle, Spiece Indy Heat: Lyle shot the ball extremely well in Dallas (60.9 percent), but his play tapered off in the session's final two games. He finished the weekend with averages of 8.6 points, 3.2 assists and 1.8 rebounds per game.
· Marcus Lee, California Supreme: In limited minutes (16.6 per game), the talented shot blocker was active on the glass (5.6 rebounds) and put up decent scoring numbers (7.2 points).
· Jordan Mathews, California Supreme: After a very strong weekend in Hampton, Mathews didn't shoot the ball as well in Dallas (39.1 percent), but still averaged in double figures (12.0 points). The son of UCLA assistant coach Phil Mathews has offers from Colorado, San Diego State, VCU and Wyoming, according to Rivals.
· Semi Ojeleye, Mokan Elite: Olejeye recently trimmed his list to 11 schools and Indiana made the cut. He had a tough weekend from beyond the 3-point line (14.3 percent on 28 attempts), but still managed 16.6 points per game.
· BeeJay Anya, Team Takevover: The top remaining target of Indiana's 2013 recruiting efforts helped lead Team Takeover to a perfect 5-0 record with averages of 7.8 points, 3.2 rebounds and 2.2 blocks per game.
· Stanford Robinson, Team Takeover: Robinson, who took an unofficial visit to Bloomington on Monday and told us afterward that he has a scholarship offer from IU, shot close to 55 percent from the field in Dallas and scored 13.4 points per game.
Scouting Notes
Eric Bossi of Rivals.com on Ojeleye:
There aren't many wings in the country with a better build than 6-foot-6 four-star Semi Ojeleye and he's got tenacity to match his well developed frame. The Ottawa (Kan.) High standout is the main offensive weapon for MoKan's 17 and under team and he's programmed to score. His jumper wasn't falling from deep so he got in the lane and powered his way to the rim for tough conversions.
Evan Daniels of Scout.com ($) touted an improved jump shot from Stanford Robinson and the ability of Trey Lyles to "simply could have scored as many points as he wanted given his physical advantage."
Tweet Worthy
IU commit 6-8 Trey Lyles in Class of '14 impressed me as a nice face up PF. Played hard and smart.— Fran Fraschilla (@franfraschilla) May 13, 2012
2013 SG Stan Robinson has developed his middle game. He's confident in his pull-up jumpers and can shoot it out to 22-feet.

— Evan Daniels (@EvanDanielscout) May 14, 2012
JaQuan Lyle. My kind of point guard. He and Trey Lyles could be illegal combo on eybl next year #eybl
— Dave Telep (@DaveTelep) May 12, 2012
Marcus Lee is a sleek athlete. Needs time to get in weight room so he can hold ground. Runs exceptionally well. #eybl
— Dave Telep (@DaveTelep) May 12, 2012
TN Travelers need a white towel to toss in. BeeJay Anya has them in a submission hold #eybl

— Dave Telep (@DaveTelep) May 12, 2012
(Photo credit: 247Sports.com)
Filed to: BeeJay Anya, Jaquan Lyle, Stanford Robinson, Trevon Bluiett, Trey Lyles