Eric Gordon sees similarities between himself, younger brother Eron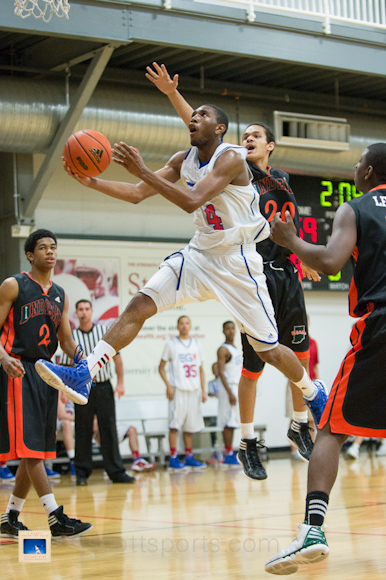 After watching his two older brothers go through it, former IU and current New Orleans Hornets guard Eric Gordon believes the recruiting process will be easier for Eron Gordon to navigate.
The 14-year old Gordon, who will play at North Central High School next winter, already has offers from Indiana and Purdue and interest from several Big Ten schools.
"It should be an easier process for him since I was the first son," Eric Gordon said at the adidas May Classic on Saturday. "He'll be aware of it and it's going to be his choice and he'll have fun with it."
Eron is playing with the Eric Gordon All-Stars on a 15-and-under team this spring, which is comprised of some of the top class of 2015 prospects in Indiana.
With the NBA season over for the Hornets, the oldest Gordon is making it a priority to watch Eron and the other teams in his program play this spring.
"I try to watch every tournament he plays," he said. "Right after the (NBA) season, I went to see him play in Atlanta. He's a lot better player now than he was two or three months ago when he was playing with his school team."
After watching his brother and his teammates cruise to a comfortable pool play win at the Twin Lakes Center just a few miles from the IU campus, Gordon said he can see a lot of similarities between himself and Eron.
"You see him going to the basket a lot more," Gordon said. "Even though I was a 3-point shooter, as I got older and stronger, I took it to the basket and that's what I see him doing now. He's a great scorer. He scores in different ways than I did. I was more powerful and tried to use my athleticism. Him, he's got pretty good skills at that age."
Gordon, who had his first season in New Orleans limited to just nine games after a knee injury, believes Eron is motivated to succeed in part due to his NBA career and the success of Evan Gordon, a guard at Arizona State.
"He's been watching us our whole careers and now he's just trying to do even better and be better than both of us," he said. "I remember in NBA games, I might have 20 something, maybe 30 — he wants to score more than that the next game whenever he plays. It's almost like a competition."
With more than four years until he can sign a Letter of Intent, Eron Gordon told reporters at the Spiece Run-N-Slam in early May that on the advice of Eric and his dad, Eric Gordon Sr., his sole focus is on improvement.
"Everybody knows he's gonna end up being pretty good and everybody likes to compare us," Eric Gordon said. "I just know he's going to be good. When he goes to college, he's going to be looking forward to trying to be a NBA player. We look forward to that for him. But he's still young."
Filed to: Eric Gordon, Eron Gordon