Q & A: Yogi Ferrell at McDonald's All-American media day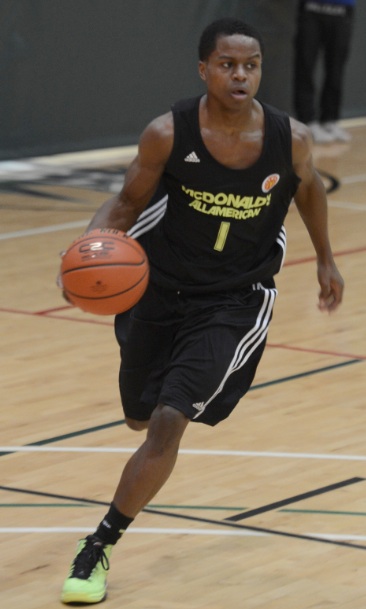 CHICAGO — The East and West McDonald's All-American squads met with the media for a luncheon Tuesday afternoon at the United Center.
Here's an interview with Indiana signee Kevin "Yogi" Ferrell, who will play for the West squad in Wednesday's game:
Talk about the state tournament, the final game against Bowman Academy. Can you just talk about the performance and almost recording a triple-double?
"Our team, we played great. We were making jump shots, we broke their press pretty easy. I felt Paul Bayt opened up the game for us early, knocking down five triples in the first half. That's exactly how I wanted to go out. I almost had a triple-double, but couldn't get one more rebound. That's how I wanted to leave my high school career."
As far as Mr. Basketball is concerned, how are you feeling about that? What's your take on it?
"I feel better. It would be a great honor to get it, but it's not in my hands. I can't really control that. So I'm just going to wait and see what people think."
Obviously you've played in all-star games before, but the talent level here is tops. Has there been any difference in the practices just  with the talent level you've been playing with compared to other games or at Park Tudor?
"It's definitely a lot different than Park Tudor. These guys are the best guys across the country. Everyone's playing harder now that the NBA scouts are watching. The level of competition is at its highest right now."
Heading into the summer, how do you see yourself working on your game when you get down to Bloomington? Is there some specific stuff you're going to be keying on?
"Just trying to maximize everything that is a part of my game and trying to learn new things because you can always learn new stuff. I just can't wait to get down to IU."
Have the coaches talked to you about your role at all? Or how do you see yourself stepping in with the returnees and how things have gone this season?
"They just want me to run the show, really. They just want me to lead my guys to win. Be a leader, telling people where to go, where they need to be. I feel I can be that guy."
Have you spoken much this season with the other guys coming in with this class? How has that relationship worked with those guys so far?
"It's great. This past summer some of us played together in some AAU tournaments together so we kind of know how we all play, got that under our belt a little early. So my relationship with those guys is pretty good right now."
As far as Indiana's run in the NCAA Tournament, what'd you think about that? I assume you watched it and what'd you think?
"It was a tremendous run. For them to make it that far this year, I feel like we can go even deeper next year. Hopefully Final Four next year."
VIDEO
(Photo courtesy of the McDonald's All-American game)
Filed to: McDonald's All-American Game, Yogi Ferrell