The Minute After: Penn State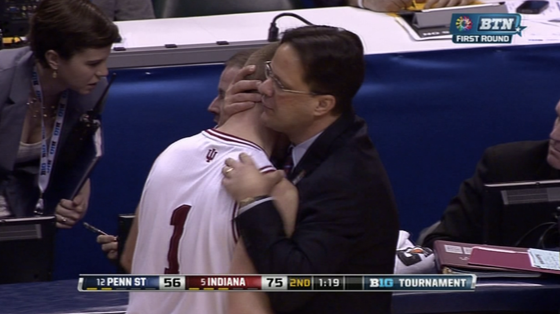 Thoughts on a 75-58 win against the Nittany Lions:
About what we expected, right?
Sure, Penn State kept it close in the first half thanks to 19 points from Tim Frazier. And despite Indiana being hot from beyond the arc (55.6%) and shooting plenty of free throws (55% FTR), the Hoosiers allowed Penn State to remain close because they turned the ball over too much (25.0 TO%) and missed some close-range shots (27.8% on 2-pointers). They also didn't get much offense beyond Cody Zeller and Jordan Hulls. But once the second half hit, Indiana's offense began to roll with others getting involved, and Penn State simply had no answer. The Hoosiers also did a better job on Frazier in the second half, as he was held to just seven points. It was about all the change that was needed. Indiana extended its lead to 22 a the 7:10 mark, and Penn State never got closer than 14 the rest of the way.
Heck of an offensive game today from Hulls. He was hot from the start. Hulls converted from beyond the arc (4-of-6), excelled in making moves off the perimeter, hit some pull-up jumpers in the mid-range and even got a bucket at the rim. He finished with 20 points on 7-of-10 shooting. Zeller was his typical efficient and productive self. 19 points on 4-of-9 shooting (11-of-15 from the line) along with 10 rebounds. Christian Watford continues to be assertive on the boards, notching a double-double of him own — 14 points and 10 rebounds. Indiana ended this one hitting 29-of-35 from the line (80.5%) and 8-of-18 (44.4%) from three, but never got it going inside, hitting just 32.4% on 2-pointers.
And then there was Verdell Jones. What a cruel twist of fate.
He's risen up as a leader of this team and played his role with much poise since returning from his shoulder injury. His senior speech was poignant; he spoke of raising a sixth banner. And if there's anyone that deserves to play in the NCAA Tournament, it's a senior who's endured so much as this program has returned to relevance. But it's not sounding like his right knee sprain is going to have him back soon. Tom Crean broke down while discussing it after the game, and it's easy to see why: It's a heartbreaking story.
The Hoosiers now face a quick turnaround; the Badgers loom tomorrow afternoon in Indianapolis. And even if Jones won't be able to play, he'll still be there rooting and cheering and his presence will be felt. These Hoosiers are likely to play for him, and play for him hard.
And they just have to keep moving and  keep getting it done without their senior leader on the court.
Filed to: Penn State Nittany Lions