What to Expect: Penn State
Indiana returns home to Assembly Hall for a Sunday matinee with Penn State following a 70-69 loss to Nebraska on Wednesday night. The Hoosiers won their first meeting with the Nittany Lions, 88-82, on Jan. 8 at the Bryce Jordan Center. 
The game will be shown on the Big Ten Network (Tom Hart and Dan Bonner) and broadcast on the IU radio network (Sirius 91/XM 91):
Through seven league games, Indiana has yet to establish an identity defensively. Tom Crean has talked at length about defense creating offense and the players have acknowledged that they must correct the problems that have resulted in a three-game slide. But even Nebraska, the Big Ten's worst offense, was able to muster up 70 points on Wednesday after failing to register 60 in its previous three games.
After the latest setback in Lincoln, Indiana guard Victor Oladipo was asked how the team can avoid letting things slip even further: "We just gotta go back to the drawing board. Compete in practice and that sort of thing. Make sure these losses don't pile up and try to get a win on Sunday." Given the long losing streaks in conference play over the past few seasons, the Hoosiers, as Oladipo said, must stop the negative momentum on Sunday.
HOOSIERS STRUGGLING ON D
The numbers are not pretty. In Big Ten play, The Hoosiers are last in opponent points per possession (1.11) and steal percentage (7.1). They're eleventh in effective field goal percentage defense (53.5). They're tenth in defensive turnover percentage (16.8) and 2-point field goal percentage allowed (53.8). So what's changed?
Dribble penetration is the most glaring deficiency. Perhaps Marquis Teague's second half performance in Assembly Hall was foreshadowing, but Big Ten opponents are getting into the lane far too easily against the Hoosiers. When any team fails to contain dribble penetration, the result is usually an easy look for the ball handler, a pass by the ball handler for an easy look inside once the defense collapses or a kick-out to an open shooter once the defense collapses. Some of this is the result of Indiana failing to communicate and switch on screens and some of it is just getting beat off the dribble.
Going back to what Crean has been discussing, Indiana must generate more offense from its defense. In the Hoosiers' two biggest wins to-date — Kentucky and Ohio State — they managed to turn over the Wildcats at a 25.7 percent rate and the Buckeyes at a 24.1 percent rate. The result? 23 points off of turnovers against Kentucky and 16 points off of turnovers against Ohio State. Over their previous three losses, IU is generating just 9.3 points off of turnovers. It's a statistic that bears watching on Sunday.
Speaking specifically to Penn State, Tim Frazier is pivotal for the Hoosiers to key on in order to stop dribble penetration. As Ryan broke down in Film Session, this is a huge component to the junior guard's game. He's not often efficient, but Frazier will convert at a high enough clip to keep Penn State close if he's allowed to go anywhere he wants with the ball.
PENN STATE TOUGH AT HOME, STRUGGLING ON THE ROAD
The Nittany Lions, who we gave a player-by-player break down of in our previous "What to Expect," are coming off a 54-52 win over No. 25 Illinois on Thursday night at home. Penn State now owns a pair of Big Ten wins, but is 0-3 on the road in conference play. Its three road losses have come by an average of 14 points.
BIG TEN EFFICIENCY MARGIN
Through Thursday night, here's a look at the Big Ten standings sorted by efficiency margin: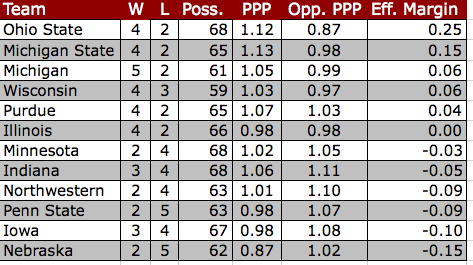 OTHER NOTES
Dan Dakich has an interview with Penn State coach Pat Chambers that is available here. … Indiana leads the all-time series with Penn State 29-9. … KenPom.com gives Indiana a 94% chance to win the game and predicts a final score of 80-61.
Filed to: Penn State Nittany Lions