Film Session: Frazier's penetration
Penn State's Tim Frazier shot an inefficient 7-of-23 (21 points) in Indiana's win against the Nittany Lions on Sunday. But when he wasn't shooting jumpers taken on account of the Hoosiers sagging off of him, he was flat-out deadly around the rim (his strength)– even hitting some tough contested lay-ups.
As we've noted previously, Indiana is currently the worst defensive team in the Big Ten — it's allowing 1.11 points per possession and is tied with Iowa, according to StatSheet — and allowed 82 points to Penn State.
So a look at the Hoosiers' defense is warranted in the latest edition of Film Session.
NO. 1) BLOW-BY
Victor Oladipo sags off Frazier on the perimeter: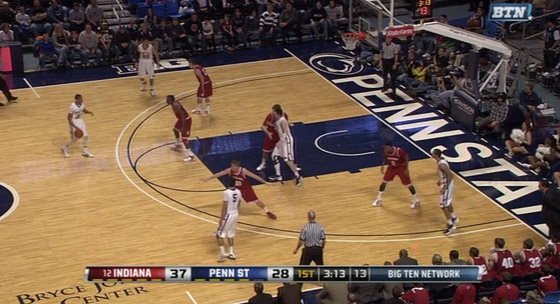 Sasa Borovnjak sets a pick for Frazier, but Oladipo goes underneath and easily avoids: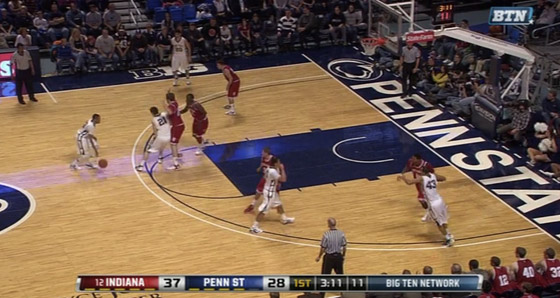 Frazier drops a hesitation move on Oladipo, knocking him off balance: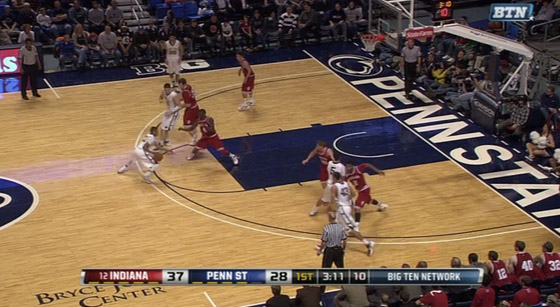 And it's an easy deuce for him: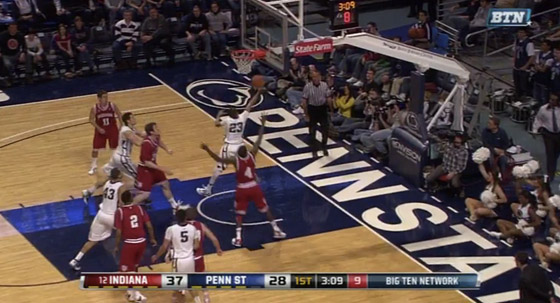 VIDEO:
NO. 2) PULL-UP J
Jordan Hulls pushes the pace and attempts a cross-court pass to Matt Roth, which Cammeron Woodyard deflects: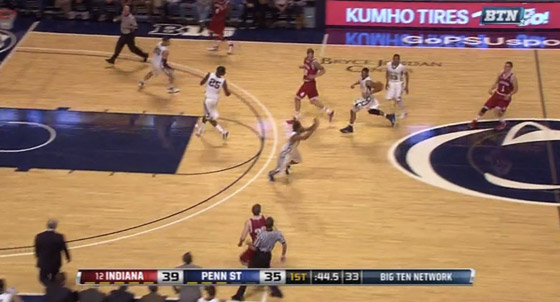 Woodyard saves the ball from going out of bounds and finds Jermaine Marshall: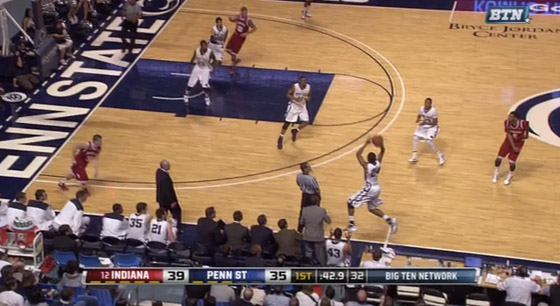 Frazier calls for the ball: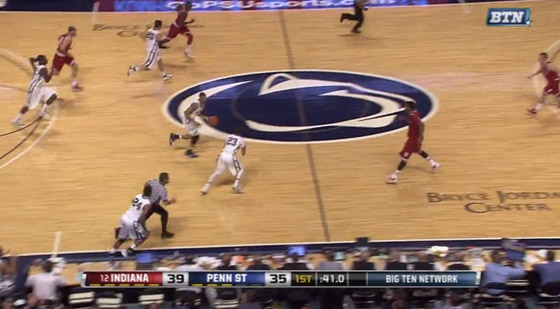 Christian Watford sees Hulls between Frazier and the rim, so he doesn't immediately get in front of Frazier: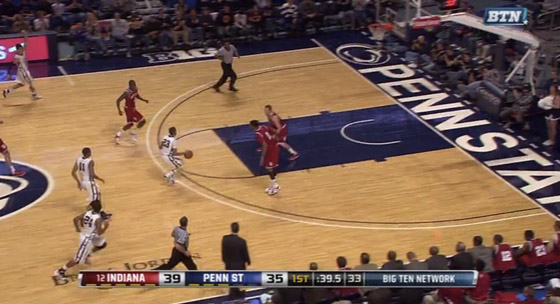 Hulls is there, but Frazier opts for a smooth pull-up J, which splashes in for two: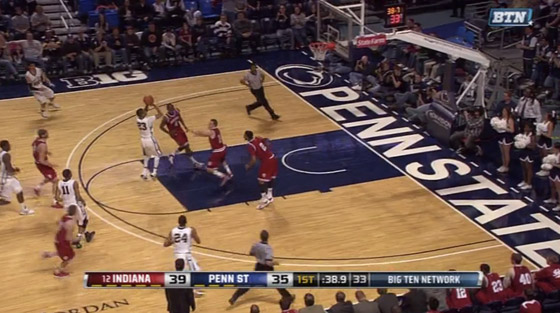 Though Frazier wasn't at the rim here, Dan Bonner notes on the broadcast that another strength of his is a move such as this.
VIDEO:
NO. 3) IN TRANSITION 
Frazier picks Daniel Moore's pocket: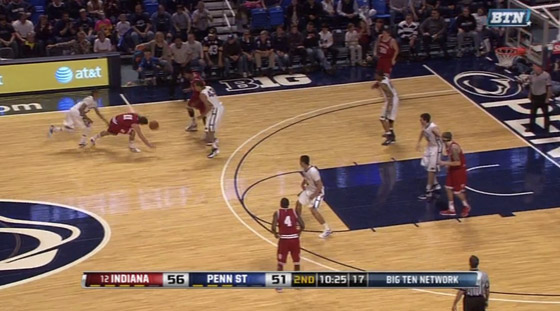 Ross Travis snags the ball and passes ahead to a running Frazier with Oladipo hot on his trail: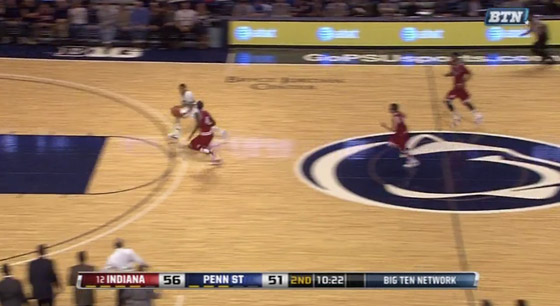 Frazier makes a nice up-and-under move for two: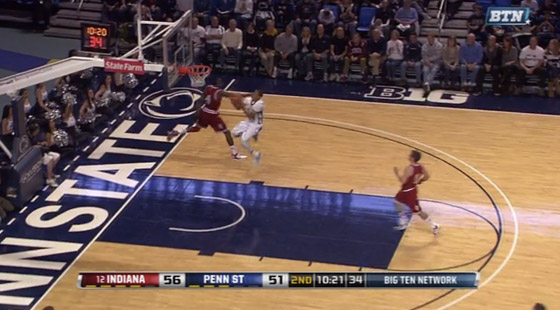 Oladipo did a nice job of recovering back, but Frazier was just too good with the ball to stop him.
VIDEO:
 NO. 4) FRAZIER WITH A STRONG FIRST STEP
Remy Abell marks Frazier out on the perimeter: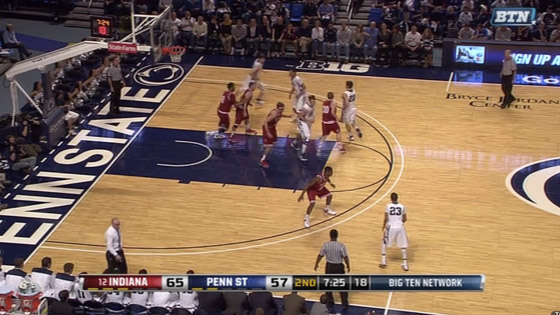 Borovnjak comes to set a pick, which Abell goes underneath: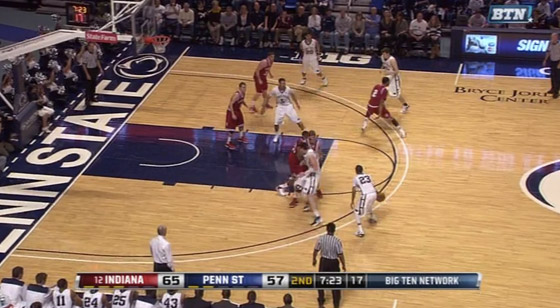 Frazier goes back left, then quickly right to get a step on Abell:
Though the freshman plays strong, fundamental D by locking into a spot, standing tall and getting his hands up, Frazier is able to jump stop and hit for two — again showing off his finishing skills: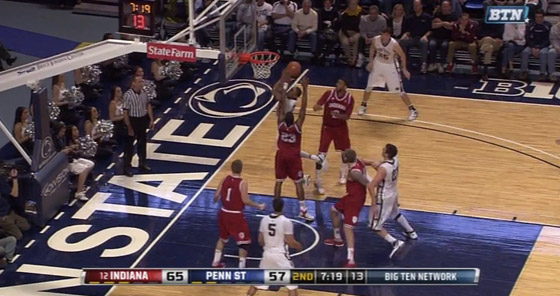 VIDEO:
BONUS VIDEO: BIG TEN NETWORK'S TOM HART MENTIONS INSIDE THE HALL ON THE BROADCAST:
Filed to: Penn State Nittany Lions, Tim Frazier