What to Expect: Penn State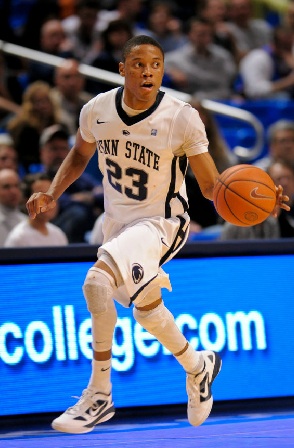 The No. 12 Hoosiers will look for their first Big Ten road win of the season on Sunday afternoon when they travel to the Bryce Jordan Center to take on Penn State. The Hoosiers last road conference win came against the Nittany Lions on Jan. 21, 2010.
The game will be shown on BTN (Tom Hart and Dan Bonner) and broadcast on the IU radio network (Sirius 94/XM 190):
Pat Chambers' first season at the helm in State College had been playing out just as many had expected as of Thursday afternoon. The Nittany Lions were 8-7 overall and 0-2 in the Big Ten (a pair of road losses) and a battle for the league cellar with Nebraska was to be decided in a pair of games on Jan. 11 and Feb. 11.
But in an upset few saw coming, Penn State crushed Purdue on Thursday night in front of 5,081 fans. Whether the outcome was more of an indictment on the Boilermakers or improved play from the Nittany Lions will play out in the coming weeks. The result, however, remains the same: Penn State just won a Big Ten game by 20 and will carry confidence into Sunday's noon tip.
MEET THE NITTANY LIONS
Few teams in the country rely on a single player like Penn State does with Tim Frazier. Slowing down the 6-foot-1 junior guard is the key to beating Penn State. His name will be bolded, circled and highlighted on the scouting report. Frazier averages 17.1 points, 6.8 assists, 5.6 rebounds and 2.2 steals. All of these numbers lead the team. He's also playing in 89.5 percent of available minutes and his assist rate of 48.5 is second in the country. His effective field goal percentage (43.2) is pedestrian and his free throw percentage (69.5) needs some work, but given the limited pieces around him, Frazier is one of the best players in the Big Ten.
Beyond Frazier, the production becomes significantly more scattered. Sophomore guard Jermaine Marshall is hitting 37 percent of his 3's for the season and is averaging 11 points in conference play. Senior guard Cammeron Woodyard had been starting in the backcourt alongside Frazier and Marshall, but missed the Purdue win with a hamstring injury. Woodyard has the best efficiency numbers among the three-man backcourt. Sophomore Matt Glover provides little offensively, but is second on the team in rebounding at 4.6 per game and had 11 against Purdue. Freshman guard Trey Lewis, runner-up to Michigan guard Trey Burke for Mr. Basketball in Ohio last winter, is fifth on the team in scoring, but played just one minute on Thursday.
The front court is not at all physically imposing, but can step out and knock down perimeter shots. Purdue learned that first-hand as sophomore forward Billy Oliver hit 7-of-11 shots from 3 for 21 points. Oliver has hoisted up a team-high 80 3-point attempts, but provides very little help on the glass with a defensive rebounding percentage of just 12.2. Jon Graham, Sasa Borovnjak and Ross Travis are all more interior-based players. Boronvnjak is hitting 61 percent of his 2's and Travis is solid on the defensive glass (20.0 DR%).
THE POMEROY PERSPECTIVE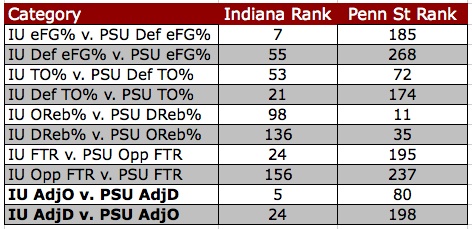 These are the lopsided numbers you'd expect to see when comparing one of the country's top 15 teams with wins over Kentucky, Michigan and Ohio State to a team that hadn't beaten a team in Pomeroy's top 100 until Thursday. A solid defensive effort should put Indiana in good position to play with a lead in this contest. Penn State is shooting just 32.3 percent from 3 and 43.8 percent on 2's. A big part of that, as mentioned above, will be slowing down Frazier.
Also of note after taking a glance at Penn State's KenPom profile: 39.2 percent of their opponents' points are coming from behind the 3-point line. That's the most in the country. And Indiana is the best 3-point shooting team in the country. If the Hoosiers come out with crisp ball movement and play through Cody Zeller, it could free things up on the perimeter.
Penn State is scoring just .96 points per possession in conference play compared to 1.04 for the Hoosiers. On the flip side, the Nittany Lions have given up just 1.02 points per possession in Big Ten play compared to 1.09 for IU. Yes, you read that right. Indiana's giving up more points per possession than it's scoring through three league games. This is a game, however, where things could even out given the quality of opponent in comparison to Michigan State, Ohio State and Michigan.
Pomeroy predicts a final score of 71-60 and while a victory may not appease some of the national folks calling for wins away from Assembly Hall to fully believe in this group, any road win in the Big Ten is a big win.
HOOSIERS TALK PENN STATE
Head Coach Tom Crean
"They are a very attack oriented team. They drive and space extremely well."
"Billy Oliver looked like Tom Gugliotta against Purdue. He is a major league shot maker."
"Sunday will be one of the toughest games we play all year."
"Coach Chambers' teams get after it every possession and you can see that they play really well together. They have a number of guys who are playing bigger roles and they are responding to the challenge."
"Tim Frazier is playing as well as anyone in the league and he does a great job of getting in the lane as he looks to score or facilitating for others."
"After watching the film (against Michigan), I told our guys that was a big-time win. Every win in the league is big and we have done a good job of preparing only for the task at hand. I think that is a by-product of a maturing, player-led team. They are very aware of picking each other up when someone may need it or delivering a tough message if the situation calls for it."
"As I said before, a defining moment for our team this year was our win at Evansville. Our approach was outstanding and we have built off that experience which has allowed us to play pretty well away from Assembly Hall."
Victor Oladipo
"We have to prepare in practice and compete at a high level. Our coaches do a great job of getting us ready ."
"We know the mentality you have to take if you are going to win on the road."
"We take great pride in having to get stops in close games. During timeouts, you can see how we have come together and are communicating better."
"We have to play great team defense. We have to get out on their shooters and win the 50-50 balls. They play really hard and hustle and we have to match and exceed their effort. It will be important for us to contain Tim Frazier. He is an outstanding player."
Jordan Hulls
"I think our team has improved its maturity. We are a completely different team this year and all the adversity we faced has helped us and carried over to this year. There is no panic in close games because we believe in ourselves."
"Going on the road and getting the wins early in the season has helped this team tremendously."
"I think the hard work we put in the offseason has made us tougher. We know that when a team punches you in the mouth, you have to come back right at them. For us, our defense has been the reason for our success."
"Our mindset is next man up. We know that a lot of different people at different times can step up and make a play that helps us win games on either offense or defense. We have done a good job of being unselfish and worrying only about getting the win. "
QUICK FACTS ON PENN STATE
All-time series: Indiana leads 28-9
Location: University Park, PA
Student Enrollment: 44,817
Established: 1855
(Photo credit: Mark Selders/GoPSUSports.com)
Filed to: Penn State Nittany Lions, Tim Frazier