The Minute After: Penn State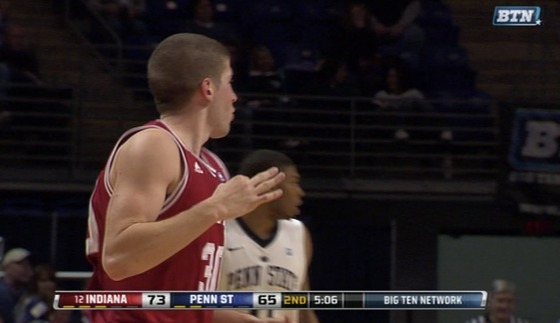 Thoughts on a 88-82 win against Penn State:
It rained threes inside the Bryce Jordan Center this afternoon.
Seven from Jordan Hulls on nine attempts. Five from Matt Roth on six attempts. Sixteen in total on 24 attempts (66.7%) for the Hoosiers. This sort of barrage was in the cards heading into this one. As Alex wrote yesterday — and as the Big Ten Network's Tom Hart noted on the broadcast (thanks for the shout-out!) — Indiana is the best 3-point shooting team in the nation. Penn State gives up the second highest percentage of opponent points from behind the 3-point line in the country. Still, this sort of gaudy display was a treat and highlighted just how deadly Hulls and Roth are when they get open looks.
But the Nittany Lions would not go down quietly amidst the 3-point flurry. Pat Chambers has his kids playing hard. Some late-game half-court trapping and full-court pressure put the heat on the Hoosiers and caused a few turnovers. The last two minutes dragged, as Penn State made a serious run at pulling off a come-from-behind victory, trailing by just two with 21 seconds to play after getting a few quick, easy buckets at the rim. But some clutch free throw shooting by — who else? — Hulls and Roth shut the door on Penn State's run.
The Hoosiers, no matter how it looked, picked up just their second conference road win in Tom Crean's tenure and moved to 15-1 (3-1) on the season. They will take it.
ADDITIONAL THOUGHTS AND STATS:
+ Indiana's defense has regressed a bit so far this Big Ten season. And such a notion was on full display in Happy Valley. The Hoosiers allowed 82 points to a middling Penn State offensive unit — which tied for the most points the Nittany Lions have scored this season. (They also had 82 points in a win against Youngstown State during the non-conference slate.) Indiana also allowed Penn State to score 1.18 points per possession. The Nittany Lions scored 36 points in the paint this evening, as the Hoosiers didn't do a particularly good job of stopping penetration. Penn State was very good with the ball, turning it over only nine times (13.0 TO%). Indiana, meanwhile, turned it over 16 times and Penn State was able to score 18 points off of them.
+ Noted this a bit above, but a banner day for both Hulls and Roth. Hulls notched a career-high 28 points — in addition to his seven threes, he was 7-of-9 from the line — and just continues to be one of the best shooters in the country. Roth played arguably the most meaningful minutes of his career this afternoon, making the aforementioned 5-of-6 threes to go along with a perfect 7-of-7 mark from the line for 22 points.
+ Penn State is one of the better offensive rebounding teams in the country. But Indiana kept them below their season mark coming into this one (37.5 OR%), as the Nittany Lions had a offensive rebounding percentage of 25.7 percent for the contest.
Filed to: Jordan Hulls, Matt Roth, Penn State Nittany Lions