Film Session: Christian Watford, distributor
In wins over Savannah State and Garnder-Webb, Indiana dished out 35 assists on 57 field goals.
Simply put, this team is moving the ball better and finding the open man.
In the latest edition of Film Session, we'll look at Christian Watford. Once a recipient of the ball in the post and mostly looking to score, Watford is now finding teammates out of the low block and in the paint.
1) SAVANNAH STATE
Cody Zeller has the ball at the top of the key as Christian Watford calls for Remy Abell to come across the court: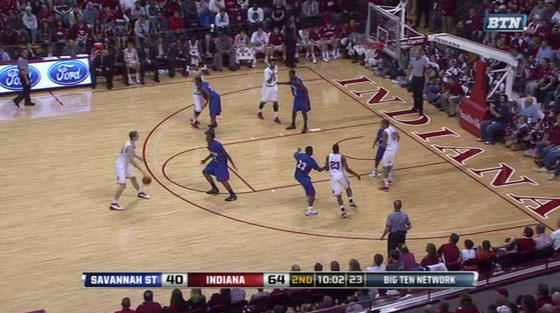 Zeller passes it to Verdell Jones on the right wing and Watford comes across to the right block: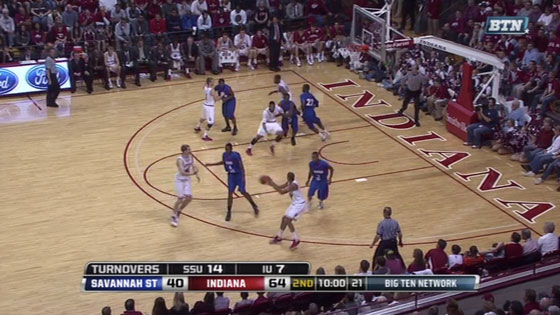 Jones dumps it down to Watford as Zeller cuts down to the rim: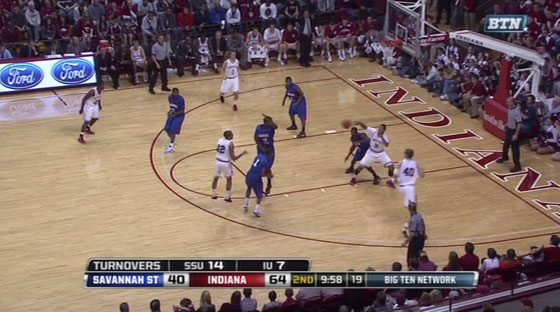 Watford makes a move into the lane and spots Zeller: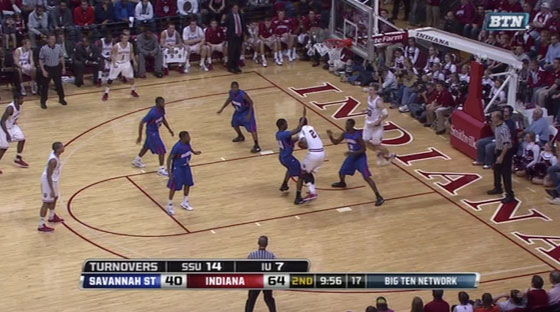 Zeller scores and gets fouled, later converting the free throw for a three-point play: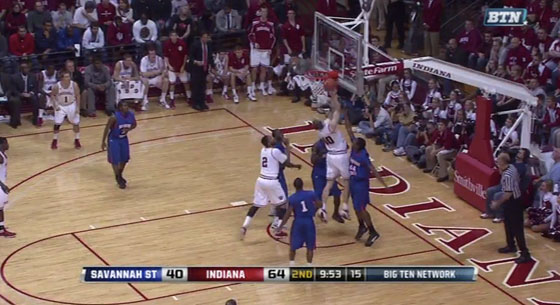 Watford could have gone up with the shot. But by passing to Zeller — who's been absolutely deadly around the rim so far this season — it's three points for the Hoosiers.
POSSESSION IN FULL:

2) WATFORD TO ZELLER AGAIN
Jones passes back up top to Jordan Hulls: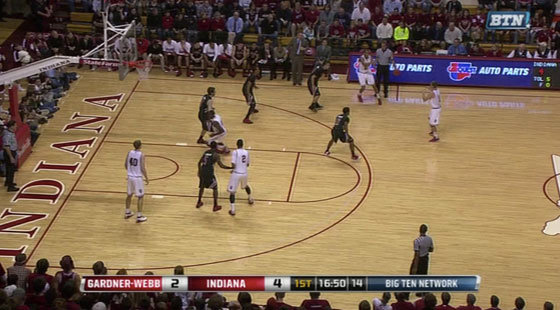 Against Gardner-Webb's 1-2-2 zone, Watford flashes to the middle and Hulls passes it to him: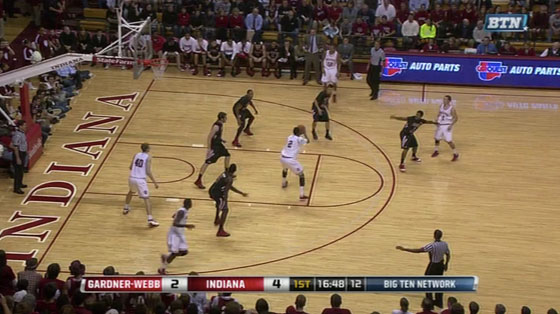 Watford attracts the defense, jumps in the air as if to shoot, then zips it to Zeller: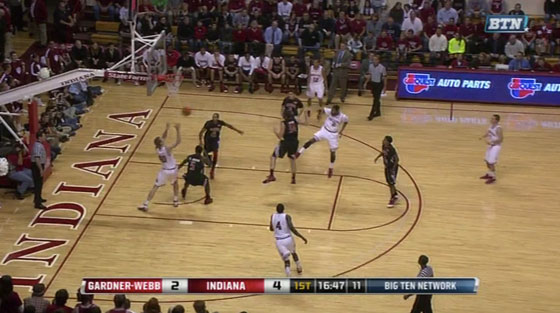 Who converts for two: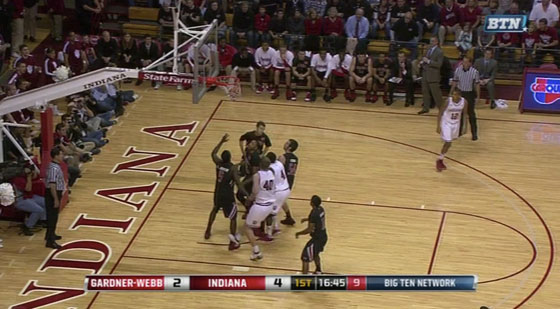 Again, another shot Watford could have probably taken. But by making the extra pass, the Hoosiers get a higher-percentage look from Zeller. This was also reminiscent of Zeller's high-low pass to Watford against Evansville. But instead of Zeller making the pass to Watford, it was the other way around.
IN FULL:
3) WATFORD TO ELSTON NO. 1
Derek Elston sets a screen for Jones: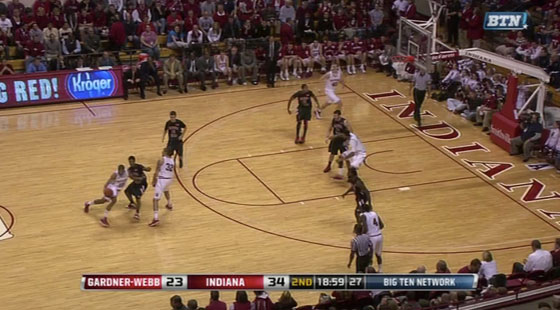 Jones dumps it into Watford, as Elston curls to the basket: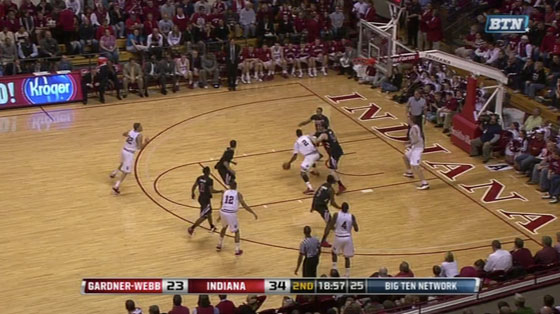 Finding two defenders on him, Watford sees Elston's lane to the hole and passes to him. (Notice Zeller has some space here as well, but Elston is in clearer sight for Watford.):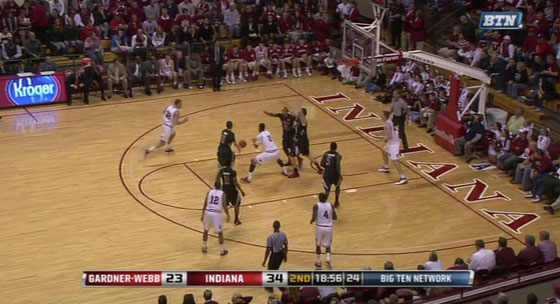 Elston puts it in for two: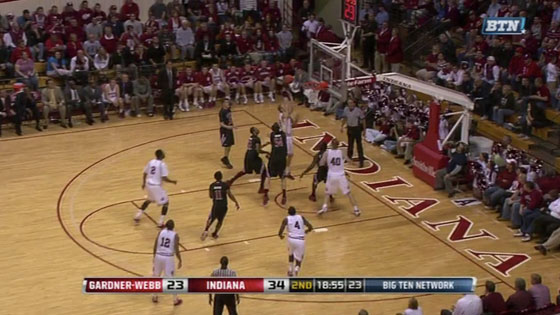 Heady basketball all around here.
IN FULL:
4) WATFORD TO ELSTON NO. 2
Off a Zeller rebound, the Hoosiers are off to the races with Daniel Moore pushing the pace: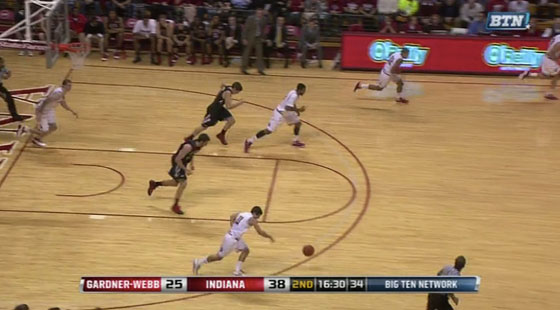 Moore passes to Watford: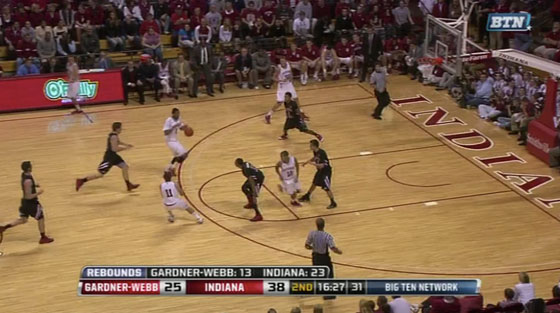 Watford takes it into the lane, attracts the defense and hits Elston coming off the baseline: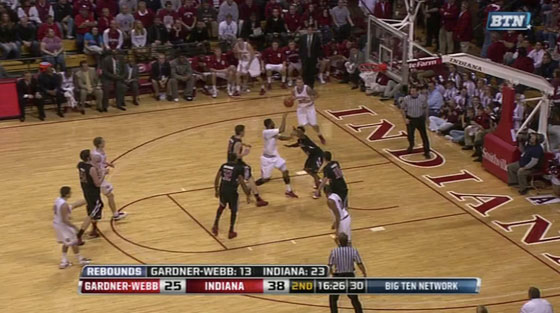 Elston reverses: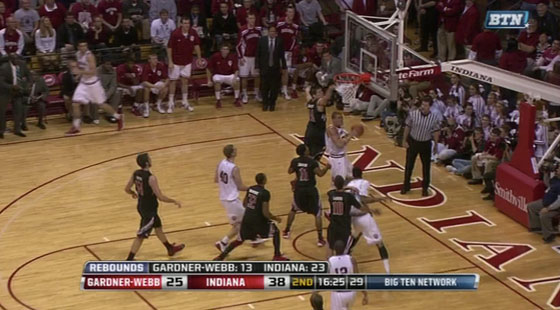 And puts it in for two: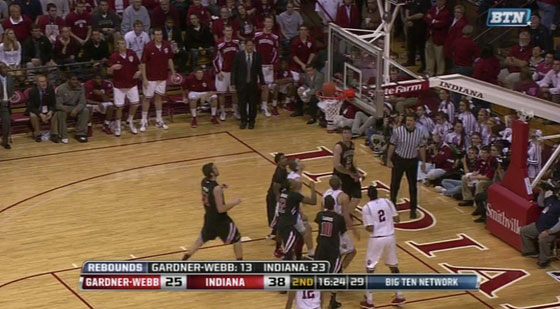 A good one to highlight, as Watford is showing the ability to also make strong decisions when the Hoosiers are on the break.
IN FULL:
Filed to: Christian Watford, Gardner-Webb Bulldogs, Savannah State Tigers