The Minute After: Savannah State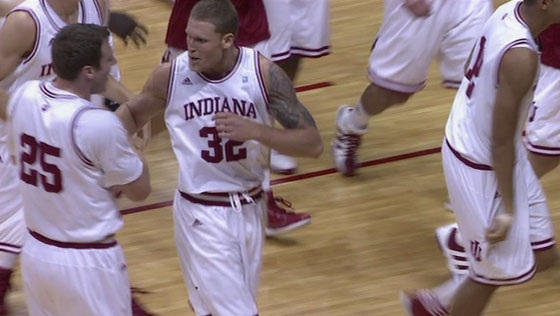 Thoughts on a 94-65 win over the Tigers:
A DIFFERENT FEEL
After putting on a clinic against Evansville on Wednesday, the Hoosiers weren't as crisp tonight. There were some ill-advised fouls late in the shot clock. Will Sheehey fouled a three-point shooter. Things got a little sloppy and erratic at times. Mentally, the Hoosiers just weren't as sharp.
They also attempted only six three-point shots, a low number for them.
Yet, Indiana scored over 90 points again. And after a string of misses to start the game, they rallied and shot efficient again as well (60.0 percent eFG%). They also took a high amount of free throws (35-of-47) for a free-throw rate (FTA/FGA) of 95.7.
So yes: not quite as pretty. But it's another blowout victory for the Hoosiers.
DO IT, DEREK
One thing is clear early in the season: Elston is past his injury issues. He's moving better. Shooting incredibly well (4-of-6 tonight, nine points). Playing smarter on both ends of the floor. He's looking confident and more mature.
If he keeps it up, Elston may even find his way into the starting lineup on occasion based on matchups.
We listed him as an X-factor in our preseason preview, writing if he could get back to form, it would give the Hoosiers a nice little boost. So far. So good.
(One very picky obseration: A lot of his makes this season have been long jumpers just in front of the three-point line. You wonder if it makes sense for him to just take a step or two back and get the Hoosiers an extra point on that possession. Maybe he's just more comfortable with the long two. As long as he keeps hitting, maybe it doesn't matter.)
FORWARD PROGRESS
Christian Watford had another strong game (19 points on 6-of-7 shooting), and any worries about his play after a rough first two games should be gone by now.
Cody Zeller posted a career-high 23 points (6-of-7, 11-13 from the line). As he started to flash against Evansville, he continues to make more one-on-one moves and assert himself on offense.
We showed their high-low action against Evansville in Film Session yesterday, and the two appeared to be developing a little more chemistry this evening as well.
LOOKING AHEAD
Just one game this coming week. A bout with Gardner Webb on Monday. The Hoosiers will then get Thanksgiving week to prepare for Butler at home a week from tomorrow. Then they'll travel to Raleigh, North Carolina to take on North Carolina State on Nov. 30 — with games against Kentucky and Notre Dame looming in December.
So some waiting to do. But we should have a better idea of what this is really made of in the coming weeks.
Filed to: Savannah State Tigers