High school coach says Peter Jurkin back at full strength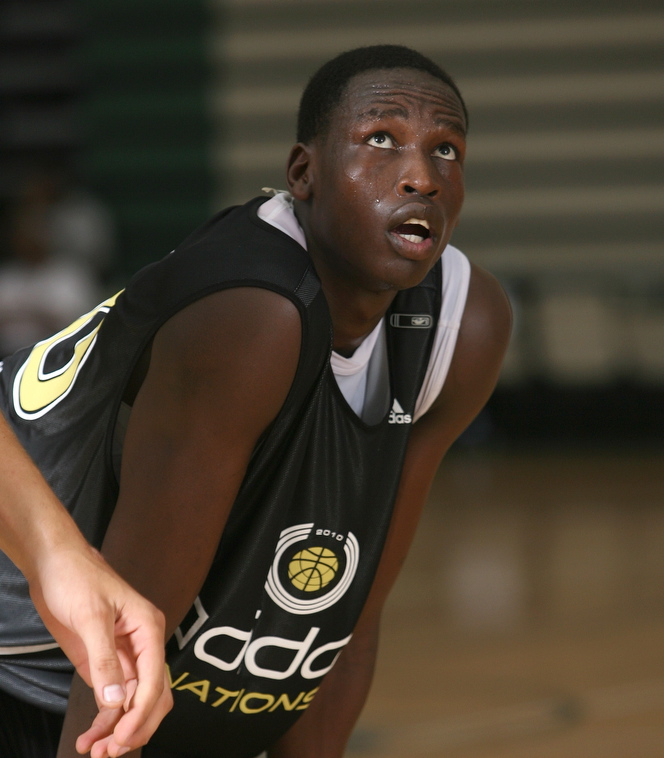 Peter Jurkin, the first recruit to join Indiana's 2012 recruiting class last August, missed a good portion of last high school season and all of the AAU season with a stress fracture in his right leg.
The 7-foot native of Sudan is back at United Faith Christian Academy in Charlotte, North Carolina for his final prep season and things are progressing nicely according to his coach.
"He's doing well. He's back, he's full strength," UNFCA coach Shaun Wiseman told Inside the Hall. "He's put on about 20 pounds of muscle. I think that injury was a blessing in disguise because it allowed him to just rest and put on weight and work on things that he needed to work on. It's really helped him a lot."
Jurkin played limited minutes last high school season after a doctor in North Carolina advised that he could play just two minutes a quarter due to the stress fracture.
However, after visiting with another doctor at St. Vincent's in Indianapolis a couple of months later, Jurkin learned that he should have been resting the leg he injured in August of 2010 at adidas Nations in Chicago. That news and subsequent period of required rest forced the Indiana commitment to miss the entire spring and summer with Indiana Elite.
With the stress fracture healed, Wiseman expressed excitement about Jurkin's offseason improvement and optimism about his senior season.
"His skill set has gotten better. He was always long, he was always athletic, he was always a difference maker on the defensive end," he said. "Now his hands have gotten better, he's really starting to come into his own. I really expect he's going to have a great year for us this year."
Related:
– Peter Jurkin will not return for July evaluation period (July 3, 2011)
– Jurkin's right leg improving, could return for July (May 15, 2011)
– Notes from Peter Jurkin's appearance on ESPNU (March 31, 2011)
– adidas Nations: Quick chat with new IU commit Peter Jurkin (August 9, 2010)
"Like" Inside the Hall on Facebook or follow us on Twitter.
Filed to: Peter Jurkin