Peter Jurkin will not return for July evaluation period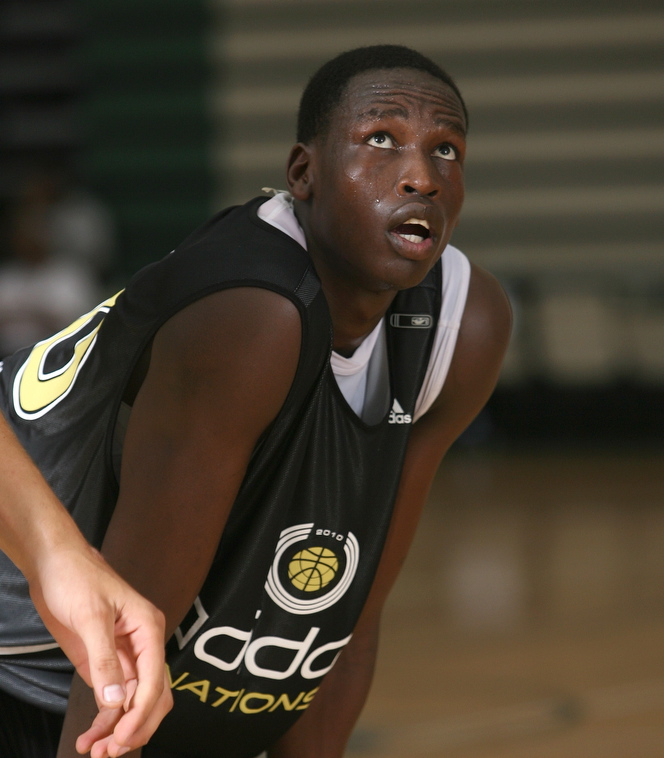 Peter Jurkin, the first recruit to join Indiana's 2012 recruiting class, will miss the July evaluation as he continues to recover from a stress fracture in his right leg.
The Indiana Elite Twitter account released the following information on Jurkin earlier today:
Peter Jurkin will not play in the July summer period due to injury, a stress fracture to left shin he sustained during his school season. Peter rested this spring and his leg has improved. His doctors want him to improve his strength in his leg. Peter and his doctors think it's best to continue to rehab and prepare for his senior season since he's already committed. Despite some reports to the contrary, Peter will remain in the 2012 class at United Faith Christian.
At the adidas May Classic in May, Indiana Elite coach and A-HOPE founder Mark Adams said there was a possibility Jurkin could return for limited minutes in July.
The 7-foot, 210-pound native of the Sudan has not played since his high school season ended at United Faith Christian Academy in North Carolina.
Related:
– Jurkin's right leg improving, could return for July (May 15, 2011)
– Notes from Peter Jurkin's appearance on ESPNU (March 31, 2011)
– adidas Nations: Quick chat with new IU commit Peter Jurkin (August 9, 2010)
– Peter Jurkin joins Indiana's 2012 recruiting class (August 9, 2010)
Filed to: Peter Jurkin