Garrett Green chooses San Diego State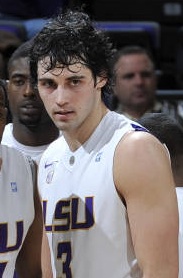 Garrett Green is headed to San Diego State for his final season of college basketball.
Edward Lewis from the San Diego State Rivals affiliate, AztecSportsReport, was the first to report the news and Green confirmed his decision with Inside the Hall on Saturday evening.
"This decision was so hard," Green said. "It was so hard on me. But I had to base everything off of grad school. That's the reason why I left (LSU) was for my education."
Green, who graduated from LSU on Friday, chose San Diego State over Indiana, Long Beach State and Wichita State.
The 6-foot-11 center averaged 6.3 points and 5.1 rebounds in 18 minutes per game last year for the Tigers.
Green said his visit to Bloomington on July 22 and 23 was almost enough to sway him towards the Hoosiers.
"Coach (Tom) Crean absolutely blew me away," he said. "I think he's an amazing coach. He's a really, really good guy. When I came down there on my visit, he was helping me out so much. I couldn't ask for more."
Green will join a San Diego State program that finished 34-3 a season ago but will be tasked with replacing four starters, including the No. 15 pick in the 2011 NBA Draft, Kawhi Leonard.
While the Hoosiers finished as his runner-up, the California native had nothing but positive remarks for the IU program.
"I still believe in Indiana. I know how bad they want it," he said. "From playing pick up and talking with them, just talking basketball, they all want it."
Related:
— Garrett Green commits to San Diego State (Hoosier Scoop)
— SDSU basketball lands 6-11 LSU transfer (San Diego Union-Tribune)
— Garrett Green takes final visit to Wichita State (August 3, 2011)
— The latest on LSU transfer Garrett Green (July 28, 2011)
— Q & A: Garrett Green talks about Indiana visit (July 23, 2011)
— A look at Garrett Green's potential impact at Indiana (July 22, 2011)
— LSU transfer Garrett Green will visit Indiana (July 19, 2011)
Filed to: Garrett Green