LSU transfer Garrett Green will visit Indiana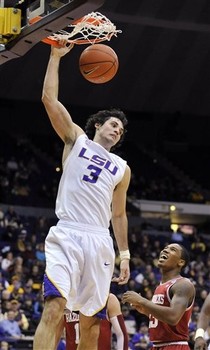 According to a report by Randy Rosetta of TigerSportsDigest.com (subscription required), the LSU Scout.com affiliate, Tigers big man transfer Garrett Green has been contacted by the Indiana coaching staff:
Senior forward Garrett Green was granted his release Monday and he will pursue a Master's degree at another school and play his final season there.

NCAA rules allow players who have graduated to transfer to another school and play right away if their current school does not offer a Master's program of their choice. Green is scheduled to graduate with his Bachelor's degree in sports management on Aug. 5.

The 6-11 California native said Monday night that within hours of being granted the release, he had heard from coaches at Arizona State, Long Beach State and Indiana. He has scheduled an official visit to IU for this weekend.
Inside the Hall confirmed Rosetta's report with a source late Tuesday evening.
Indiana has one scholarship remaining for next season. With only one year of eligibility left, Green wouldn't affect scholarship numbers beyond the 2011-2012 campaign.
As a junior at LSU, Green started five of 32 games and averaged 6.3 points and 5.1 rebounds in 18 minutes per game.
Green's departure from LSU was announced by the school on Monday evening:
"Coach Johnson has given me every opportunity to be successful here at LSU," said Green. "I'm getting my bachelor's degree, had a chance to play in the SEC, and be a part of a great basketball program. I really appreciate everything Coach Johnson and LSU have done for me, but I look forward to my next opportunity."
Filed to: Garrett Green