A look at Garrett Green's potential impact at Indiana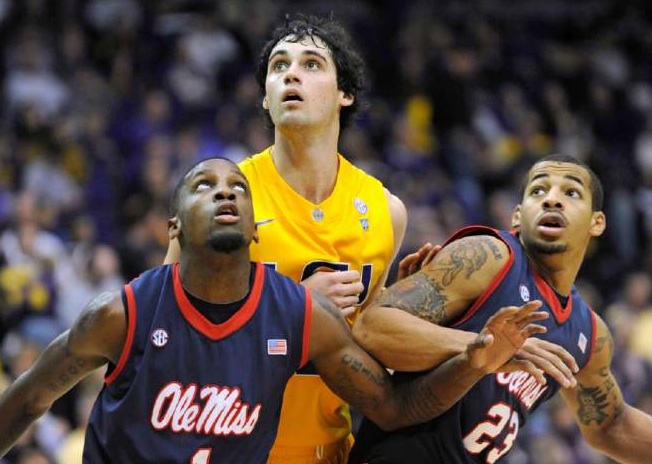 Garrett Green is in Bloomington this weekend on his first visit since the announcement earlier this week that he would transfer from LSU and play his final collegiate season elsewhere.The 6-foot-11, 230-pound Green averaged 3.6 points and 3.2 rebounds in 13.1 minutes per game in three seasons at LSU.
Green, who will graduate with his bachelor's degree in early August and is looking to pursue a master's degree in sports management, will be eligible immediately. Inside the Hall examines how the potential addition of Green could impact the 2011-2012 Hoosiers:
— Experienced, capable post presence: Green's numbers as a junior at LSU were respectable — 6.3 points and 5.2 rebounds in just over 18 per minutes per game. He had stellar performances like 18 points in a road win at Auburn, 15 points and 13 rebounds in a loss to Wichita State and 10 points and 10 rebounds in a win at Arkansas. He also had rough stretches like LSU's final four games, where he scored a total of just 14 points in 52 minutes. And he also struggled mightily from the foul line (44 percent). But even with his up and down career in Baton Rouge, Green's experience playing in the SEC for three years against the likes of Florida, Kentucky and Vanderbilt would be a positive and welcome addition.
— Competition for minutes: Tom Crean, based on his recent Twitter comments, is ready to coach a team that's prepared to battle for playing time. Green would help push guys like Tom Pritchard and Derek Elston to produce at a much higher level than a year ago. And if they fail to embrace that challenge, Crean, with Cody Zeller and Green in the fold, would have the deepest frontcourt rotation he's had to date in Bloomington. The unique circumstances of the Indiana rebuilding project over the past three years have forced Crean to allocate playing time to guys that didn't always deserve it. Adding Green could help to ensure that doesn't happen in 2011-2012.
— More help for Zeller: As much as he's been anointed as a savior for Indiana basketball, there will be an adjustment period next winter for Cody Zeller. From a basketball IQ, fundamental and skill perspective, he's easily the most college-ready player Crean has recruited at Indiana. He is an elite player that will one day likely play the game for a living. But he's still a freshman that has yet to experience the rigors of college basketball in the Big Ten. Green, along with Pritchard, would give the Hoosiers another option at the five that would allow Zeller to play almost exclusively at the four spot.
— No scholarship impact: The Hoosiers are currently one scholarship under the NCAA limit of 13 for next season and because Green only has one year of eligibility, he won't impact the scholarship situation beyond next season.
(Photo credit: Travis Spradling/The Advocate)
Filed to: Garrett Green