Q & A: Jaquan Lyle talks improvement, Indiana and his hair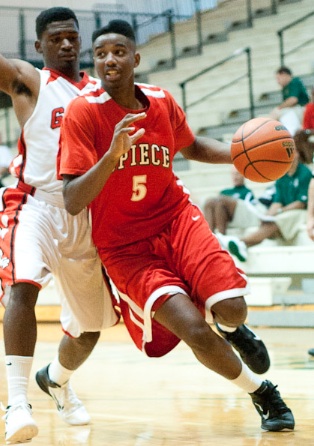 Jaquan Lyle's play last season at Evansville Bosse and with the Eric Gordon All-Stars this spring helped solidify a top 15 national ranking in the 2014 class by ESPN.com and offers from Indiana, Illinois, Purdue and Xavier.
The 6-foot-4, 187-pound guard recently made the switch to Spiece prior to the July evaluation period. Inside the Hall caught up with Lyle at the GRBA National Championships for a Q & A:
Playing with the Spiece Indy Heat 16's the last couple of tournaments, how has that been? What's your relationship with James Blackmon Jr. and how's that growing?
"Me and Blackmon, our relationship is good. We're starting to get a real relationship like brothers. I've been at his house the past two weeks ever since the Best of the Midwest. We'ved bonded real good."
What are you doing specifically to work on your game this summer? Obviously a game like you just played, winning by 40 points, you're not really getting the high level of competition.
"Games like this I just try my best to find my teammates. Because in the clutch games, they're going have to look up to me to step up, take that role and do scoring. So I try find them as much as I can during these type of 40-point blowouts. To work on my game, shooting the shots I need to shoot, passing the ball, handling it a lot better, that's basically it."
Do you notice any coaches here watching you today at all or do you try not to pay attention to that?
"Yeah, I noticed them today. It was (Tom) Izzo, (Tom) Crean, a Purdue assistant. I notice them at these type of games. It's a 40-point blowout. You're focused on the game, but you're not really focused on the game like it's a close one."
Most important question of the day, what happened to the hair?
"Oh, man. Me and James made a bet. We played downstairs in the basement because he has a court in house. So we played downstairs in his basement and he said if he beat me, I had to get it cut off. He beat me by two, so I had to get it cut off."
Decision wise, have you thought at all about a timeline or is that something you're really not thinking about?
"Probably after next AAU season."
Any new schools this summer watching you or calling about you so far?
"A lot of schools have called my high school coach and Todd (Hensley) and AAU coach. The only schools I really know of are Ohio State, Michigan State and West Virginia."
What have the coaches that have been watching you this summer told you they like about your game?
"They say I always compete and I'm not a ball hog. I know how to take my shots, shot selection. They just say I just like to go at it and I don't like losing."
Are there any schools that are standing out that you like?
"Everybody's equal. I gotta take a lot of visits before school starts. After that, I'll know what schools are really, really liking me."
How much will it mean to you the schools that started recruiting you first? Indiana was the first school to offer you. In the end, when it comes down to making a decision, is that something that will be important to you?
"Yeah more than likely. Schools that recruited me at the beginning, nobody really knew me when I was first getting recruited. And they took the time to come down and watch me and that means a lot to me."
What's your relationship with the Indiana staff? How's that grown and could you see yourself playing for Coach Crean?
"Yeah, I could see myself playing in the candy stripes. Coach Crean, the whole coaching staff, Coach (Tim) Buckley, they're all awesome. I like them a lot."
Are Trey (Lyles) and James giving you the hard sell to come and play with them and how are you receiving that message?
"They told me to commit to IU before AAU season is over this year or I can't come back with them next year (laughs)."
What do you tell them?
"I just tell them, I guess I'm not playing with you all (laughs)."
(Photo credit: Jamie Owens of J. Scott Sports)
Filed to: Jaquan Lyle