That's A Wrap: Team Defense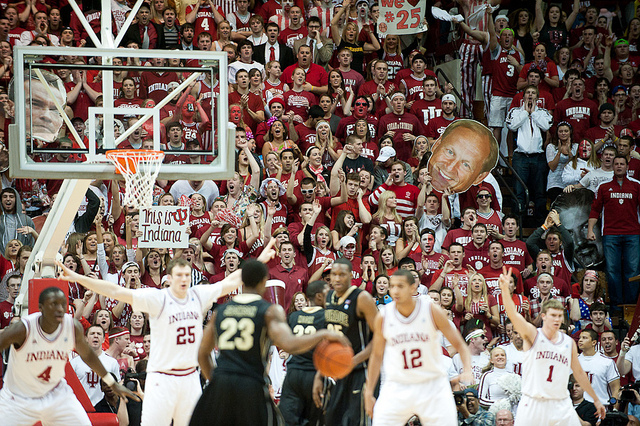 Welcome to "That's A Wrap," our attempt to make some sense of the 2010-11 season. Sit back. Relax. Grab some popcorn. Get your read on. Today: Indiana's Team Defense.
Final Stats: 68.2 ppg, 43.3 FG %, 36.4 3PT %, 49.6 eFG %, 19.9% turnover percentage
Two bigs problems for Indiana's defense this season.
You may know them already.
Its opponents' free-throw rate of 50.2 percent ranked 333rd in the nation. Not one major conference program fared worse. This team fouled and fouled and fouled, and then fouled some more. Tom Pritchard (6.5 fouls per 40 minutes) Derek Elston (5.7) and Bobby Capobianco (10.7) were Indiana's biggest culprits. But freshmen Will Sheehey (5.5)  and Victor Oladipo (4.8) contributed to the problem, as did Daniel Moore (5.0) in a limited role.
Most games the opponent held the advantage at the line. Twenty-plus attempts from the opposition was common. When your margin for error against quality Big Ten opponents is already small, giving away so many freebies can sink your ship fast. To put this in perspective, Indiana finished dead last during the conference season by allowing 473 free-throw attempts. Northwestern, which finished a spot ahead in 10th, allowed over 100 less at 358.
Indiana's other defensive issue — one not in the box score or measured by advanced statistics — was a communication and assignment breakdown. Often, Indiana failed to execute in its half-court defense, leaving opposing players wide open for 3-pointers, something Film Session covered early and late. And a lack of strong communication between the five players on the court sometimes left Indiana scrambling to pick up the pieces as the opponent got a clean look at the basket.
Between the open looks and free throws, Indiana finished the season allowing 1.14 points per possession, which tied them for last in the Big Ten with Northwestern. And their adjusted defensive efficiency in-conference regressed year-over-year, too (111.8 in 2009-10 to 113.7 in 2010-11).
Now, if we step back and look at the season as a whole, Indiana's adjusted defensive efficiency actually did improve (101.0 in 2009-10, 99.0 in 2010-11). Though, the Hoosiers' cupcake non-conference schedule helped in this regard.
Shining moment: A 52-49 win over the Illinois on Jan. 27. The Hoosiers held the Illini to just 32.2 percent shooting from the field; Illinois shot just eight free throws in the contest; Jeremiah Rivers held Demetri McCamey to only six points on 2-of-11 shooting.
Bottom line: Indiana's team defense and foul problems held them back from a couple more wins this season. But the addition of Cody Zeller's fundamental game on the frontline next season coupled with another year of maturity and experience should have the Hoosiers' defense on the uptick next season.
It can't get much worse, right?
Filed to: Statistics