That's A Wrap: Verdell Jones III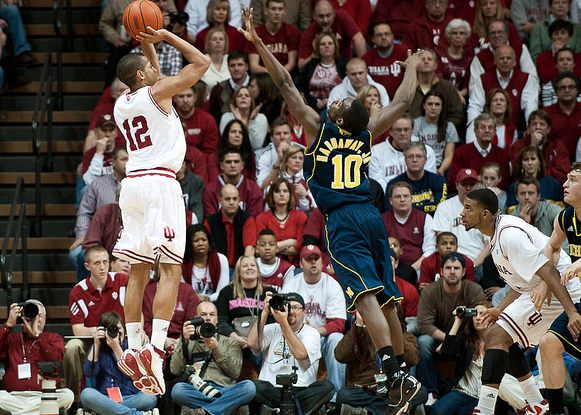 Welcome to "That's A Wrap," our attempt to make some sense of the 2010-11 season. Sit back. Relax. Grab some popcorn. Get your read on. Today: Verdell Jones III.
Final Stats (28 games): 12.5 ppg, 3.3 rpg, 3.2 apg, 44.8% FG, 67.2% FT in 28.2 minutes per game
Let's not get this twisted: Despite all the criticism that's often hurled at him, Verdell Jones matters.
It may not be perfect and it may not happen all the time, but save for Jordan Hulls — who only began to figure it out late in the season, and who doesn't have Verdell's size — he's really the only guy on this team that has the ability to penetrate the defense and create his own shot. And if you're able to do that it 1) opens things up for your teammates, 2) gets you higher percentage looks and 3) gets you to the line.
Further, on a team filled with what often felt like just 3-point shooters and dunkers, Verdell's silky mid-range game was something different to throw at an opponent. On defense, Tom Crean often switched styles — junk zones, man — to give the opposition a different look and keep them off rhythm.
On offense, Jones was Indiana's different look.
Now, of course, this comes with flaw: Jones' turnover rate (22.4 percent), was fourth worst on the team this season, with only Bobby Capobianco (25.3 percent), Jeremiah Rivers (31.0 percent) and Daniel Moore (33.5 percent) faring worse. Jones' 3-point shooting (29.8 percent, 17-of-57) could stand some improvement.
But he had far and away the highest assist rate on the team (25.0, next closest was Hulls at 19.2 percent), which is, in part, due to his offensive skills listed above. And outside of Christian Watford (team-high 6.5 fouls drawn per 40 minutes, team-high 140 free throws attempted), Jones was really the only Hoosier that got to the line with any regularity (a second-best 5.4 fouls drawn per 40 minutes, 116 free throws attempted), doubling that of his PG counterpart Hulls (57 free throw attempts).
This matters.
(Oh, and let's not forget Jones was hobbled by an ankle injury this season, one that caused him to miss three straight Big Ten games in late January.)
We've long talked about Indiana's foul troubles this season, one that landed them with a 50.2 opponent free-throw rate, ranking them a horrific 334th in the nation in that category.
But outside of Hulls (2.5 fouls committed per 40 minutes) and Matt Roth (2.6 fouls per 40 minutes), Jones racked up the least amount of fouls on the team (3.0 fouls per 40 minutes).
Simply put: He was not part of Indiana's most glaring problem this season.
Shining moment: A 24-point performance (9-of-10), four assist performance in a loss to Michigan on Jan. 15.
Bottom line: Jones may often frustrate and infuriate, but he does too many other good things not to have a significant role on this team with its current crop of talent. If Indiana fails to land an impact recruit at the one before next season, it's a role that will likely continue.
Filed to: Verdell Jones