A look ahead to Thursday's meeting with Penn State
Ladies and gentlemen, this is it. The final chance for Indiana basketball to put together some positive momentum heading into next season. If the Hoosiers are unable to knock off Penn State, their record over the season's final 21 games will be 3-18, including nine straight losses. I'm not sure there's a way to spin that type of finish or winning less Big Ten games than last season in a positive manner.
The Nittany Lions are fighting to get back onto the NCAA Tournament bubble and need to beat Wisconsin in the quarterfinals to return to the discussion. Indiana is playing for pride at this point. That pride was essentially non-existent in Saturday's loss at Illinois and the mental makeup of this group seems fragile at best as they limp to the finish line.
The long-time voice of the Hoosiers, Don Fischer, offered this assessment yesterday on The Dan Dakich Show: "I think that this is a basketball team that, at this point in the season Dak, is kinda battered. And I mean that in a sense that I think they are physically beaten up here. They're also mentally beaten up. They went through that stretch of three weeks where they really played well after they had gone through a six-game losing streak and then they've gone back into that negative mode again. And that takes it out of you mentally. I think that's the biggest issue with this team."
That said, here are the Pomeroy numbers: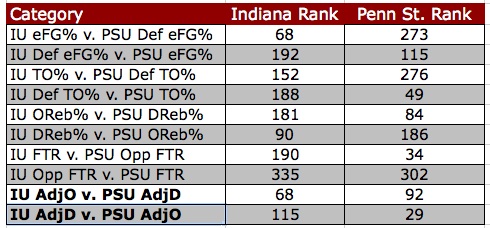 Penn State's defensive effective field goal percentage: Not a strong suit for Ed DeChellis' group. Open shots should be there for the taking. The question is, can Indiana knock down shots? Jordan Hulls (0-of-7) and Christian Watford (1-of-8) both struggled mightily in Champaign and a big effort from both guys will be needed for the Hoosiers to pull this one off.
Free throw discrepancy: In the first meeting back on Dec. 27, Penn State was 19-of-26 from the foul line and Indiana was just 5-of-8. The Nittany Lions won by nine. Going forward, this is an area Indiana must improve in. The Hoosiers are 335th nationally in opponent free throw rate, but Penn State is just 302nd nationally at getting to the line. Not only does Indiana have to stop sending opponents to the line with such frequency, the Hoosiers must do a better job getting there themselves.
Value each possession: Penn State's turnover percentage is just 17.9 percent (49th nationally), so unnecessary reaching on defense will likely lead to fouls rather than turnovers. This is an experienced backcourt that's not easily frazzled and led by the great Talor Battle. The key here for Indiana is to limit its own turnovers and the numbers say that is an attainable goal. Penn State isn't forcing turnovers at a high clip — just 18.4 percent — so unnecessary mistakes in this facet could end up being a dagger.
Filed to: Penn State Nittany Lions