Film Session: Point-guard domination
Both Wisconsin's Jordan Taylor (career-high 39 points) and Illinois' Demetri McCamey (22 points, four assists) scorched the Hoosiers in back-to-back games on Thursday and Saturday, as Indiana was often helpless to stop each on plays where not a whole lot was even going on.
A look a a few such plays in the latest edition of Film Session.
NO. 1) TAYLOR PAST OLADIPO AND THROUGH ELSTON
Out of a sideline inbounds pass stemming from an out-of-bounds deflection, it looks as if Jared Berggren may set a pick for Taylor as the shot clock winds down: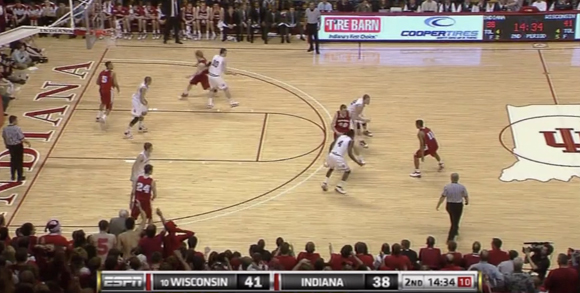 But he instead gets into the paint: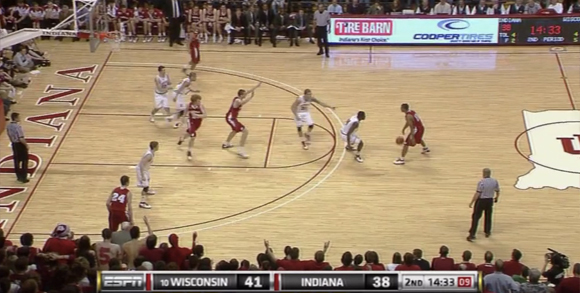 Taylor then makes a move on Oladipo: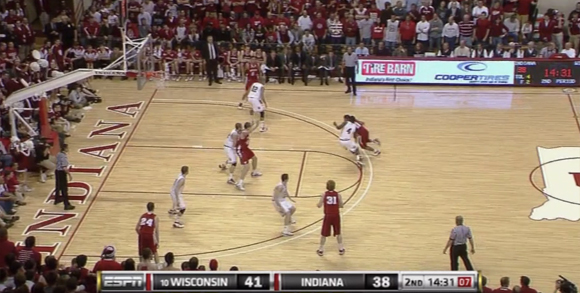 And is met by Elston who tries to take a charge, but fails: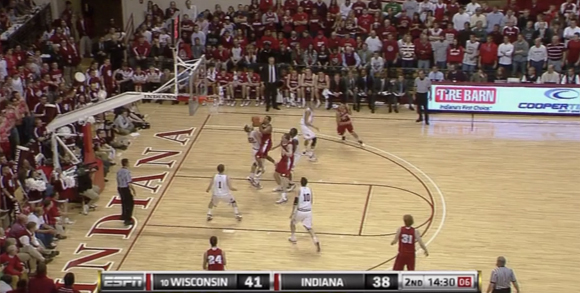 Two points for Taylor, who made the subsequent free throw for three. Taylor outmaneuvered two of Indiana's defenders by himself here.
IN FULL:
NO. 2) BOMBS AWAY
After a Jeremiah Rivers miss at the free-throw line, Taylor brings the ball up: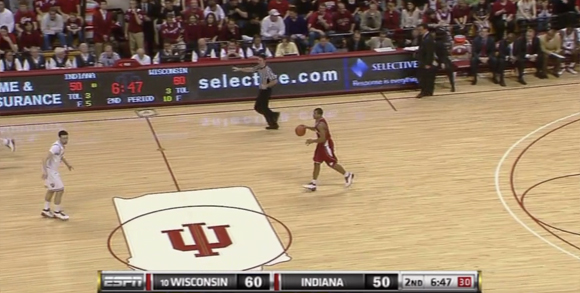 A pick of Rivers by Keaton Nankivil has Tom Pritchard switching onto Taylor: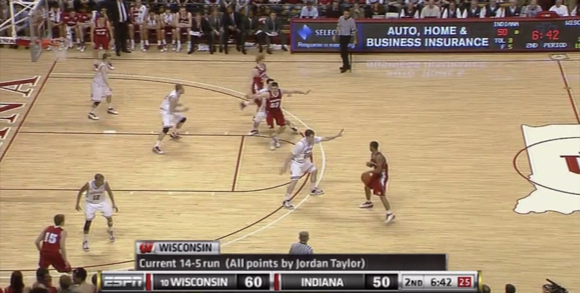 After a few perimeter passes, Taylor gets the ball back. Pritchard actually does a decent job on Taylor as he drives into the paint: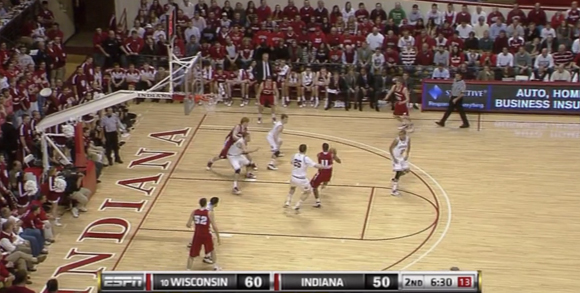 Taylor decides to kick it back out to Brett Valentyn on the wing: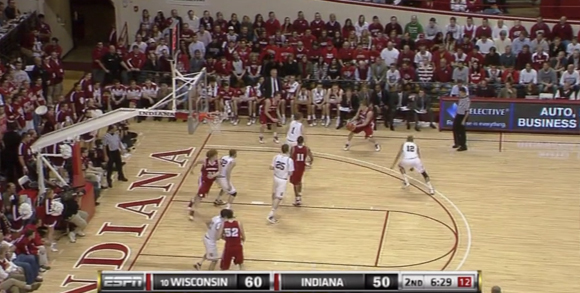 Taylor eventually gets the ball back as the shot clocks ticks to zero: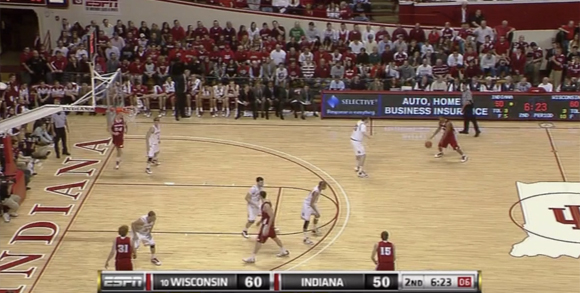 Taylor throws up a desperation 3-pointer with Pritchard right in his face and hits: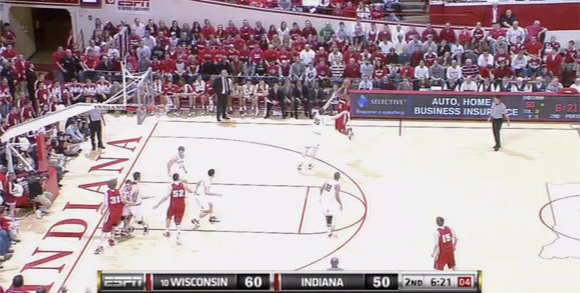 This was during Taylor's ridiculous hot streak in the second half, one where the Badgers cleared out and let him go to work. Indiana simply had no answers.
IN FULL:
NO. 3) MCCAMEY IN TRANSITION
After hitting a couple threes to start the game, McCamey then used his speed to rip off a three-point play.
Verdell Jones tries passing in traffic to Will Sheehey, a ball Mike Davis deflects: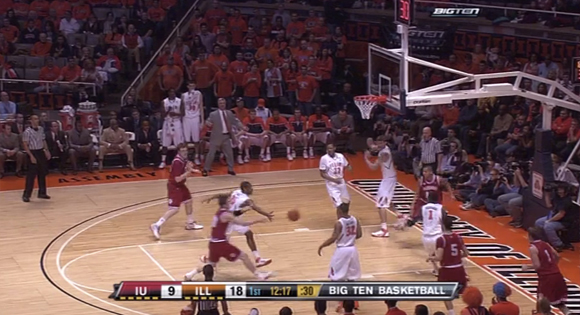 McCamey is immediately off to the races along with freshman Jereme Richmond. McCamey has a step on Rivers because of where he was at the start of the turnover: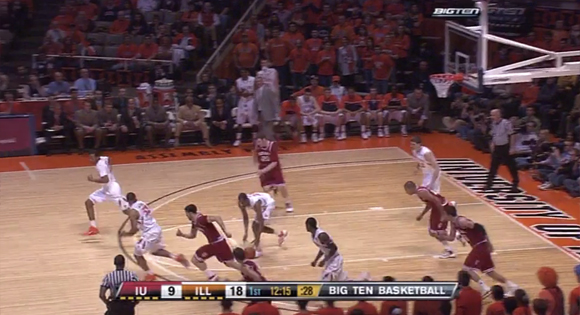 Davis throws a perfect pass to McCamey: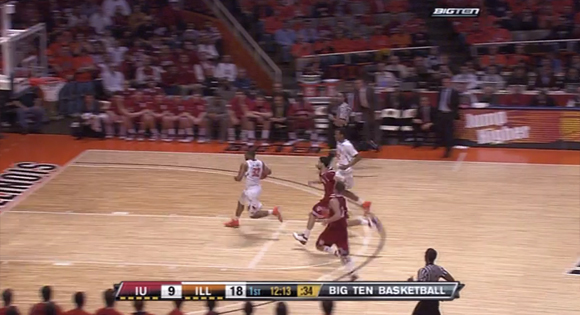 Who is fouled by Rivers (McCamey made the free throw):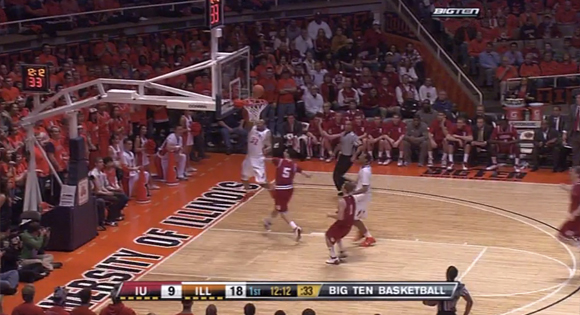 Really nothing Indiana could do here. Its defense wasn't set off a turnover, and once McCamey made the smart decision to sprint out ahead, it was curtains.
IN FULL:
NO. 4) MCCAMEY IN THE HALFCOURT
After Christian Watford missed a three he hesitated on, but ultimately decided to take, Tisdale grabs the rebound and passes to McCamey: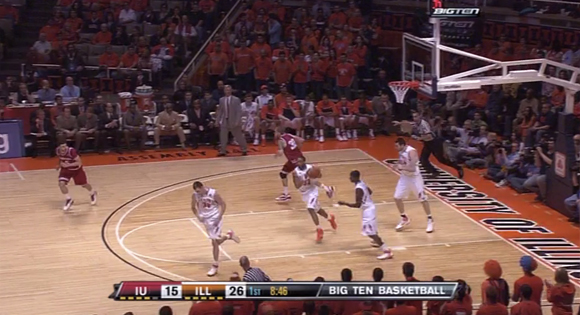 McCamey doesn't really push it up the court, as all five Indiana defenders are back in front of him: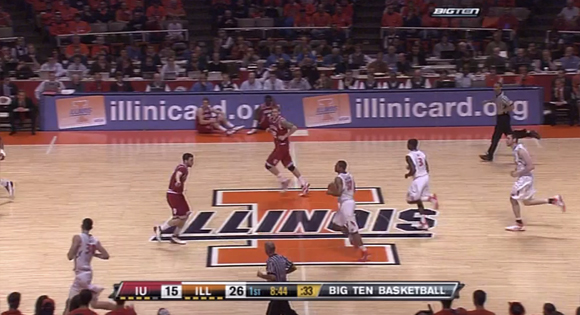 But as he makes a move on Rivers, Elston decides to slide into the lane and help: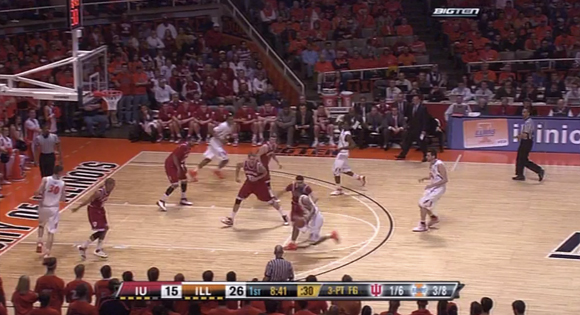 Which leaves Tisdale — who is a good 3-pointer shooter for his size — wide open for a trey: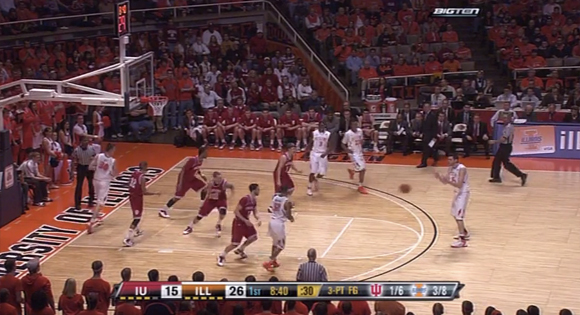 Splash: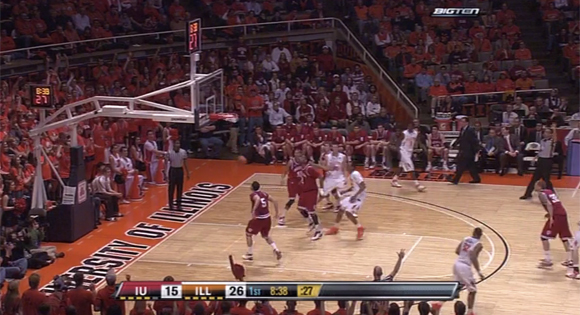 McCamey had 11 of the Illini's 26 points at this juncture, so perhaps Elston's decision to key on him stemmed from that. Whatever the reason, McCamey recognized the looming double team, found Tisdale and the rout continued. Nothing complicated here. Just a quick, heady play from a senior.
IN FULL:
Filed to: Demetri McCamey, Jordan Taylor