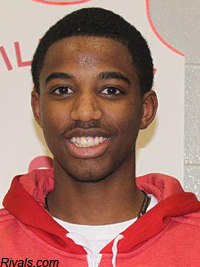 The Essentials: 6-4, 185-lb guard/wing for Evansville Bosse and Eric Gordon All-Stars
The Schools: Illinois (offer), Indiana (offer), Purdue, Texas, Virginia Tech, Xavier (offer)
The Numbers: 18.1 ppg for Bosse, which is currently 13-6.
The Quote: "Bouta do my thing against a probable future teammate (Cody Zeller)" – Jaquan Lyle on Twitter before Bosse loss to Washington in December.
The Ranking: ESPN.com lists Lyle on the ESPNU 100 Watch List for 2014.
The Coach Says: "The kid's a talent, but right now we're just worried more on him growing up and him being a good basketball player and maturing. If that continues, we're going to be OK." – Bosse head coach Shane Burkhardt to Inside the Hall on Lyle.
ITH Scouting Notes: Skilled playmaker that can excel at the point or on the wing. Excellent passer, especially in transition. Streaky shooter, but possesses the ability to go on a scoring barrage from the perimeter. Solid ball handler and defender. Very good at attacking off the dribble, but isn't yet explosive at blowing past defenders. High basketball IQ for a freshman with a knack for making big plays.
The Video (No. 15 in white):
Filed to: Jaquan Lyle