Jaquan Lyle one of the best in Indiana's 2014 class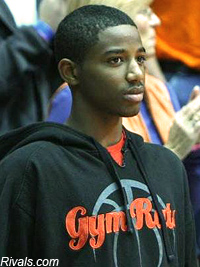 A small group of reporters huddled outside the Evansville Bosse locker room following the Bulldogs' 79-71 loss to Washington on Friday.
We were there to try and speak with Bosse's heralded freshman Jaquan Lyle, who picked up a scholarship offer from Indiana and is drawing attention from a bevy of high major schools.
But as our conversation with Bosse coach Shane Burkhart drew to a conclusion and a reporter from the Illinois' Rivals site asked about his star freshman's media availability, it became clear that a conversation with Lyle was off limits.
"Nope, not gonna happen. Sorry. He's 14, man," Burkhart said.
Credit Burkhart for not further feeding the growing hype surrounding Lyle.
"He's 14 years old," the Bosse coach explained. "And we've got so many things we've got to do to keep his head above water. We're not really concentrating so much on the basketball stuff, we're concentrating on trying to keep people away. We're trying to get him to a point where he is what he is to grow up."
The natural talent Lyle possesses is clear from the moment he steps on the floor. Friday was Lyle's lowest point total (16) in four games and the 6-4 wing struggled until late, when he hit three consecutive 3-pointers with Cody Zeller on the bench.
"As a freshman in four games, I don't know if you can ask much more than that," Burkhart said. "He's meeting the call. He just struggles a little bit at the point of still learning the basics of some of the game."
The strength of Lyle's game is his versatility. He's not yet explosive off the dribble, but he excels on the perimeter as a shooter and a facilitator for his teammates.
"He's a kid that's capable of doing a lot of stuff," the third-year Bosse coach said. "Tonight, he saw what it was like to play against a 6-11 kid that he can't throw through. I thought late, he was very good. I thought late, he showed exactly what type of player he was. But it took the two and a half quarters for him to get to that point. It took some calming down. He's a phenomenal passer. And I thought tonight you kind of saw where he was as a streaky shooter, too. We're trying to work on that with him."
Burkhart said he's fielded calls from Illinois, Purdue, Texas, Virginia Tech and Xavier regarding Lyle, but was only comfortable about talking specifics on a scholarship offer from one school — Indiana.
"I can't speak of everyone that has (offered), but the one I can is IU, " he said. "There's a lot that have, but they want to do it face to face. They (the other schools) have (offered) through me and I have spoke to him. But it's not out because they want to do it face to face in some meetings."
In two games last week, Lyle was watched by Tom Crean, Bruce Weber, Chris Mack and Purdue assistant coach Paul Lusk. The attention will increase as more schools learn about the rising freshman.
"The kid's a talent, but right now we're just worried more on him growing up and him being a good basketball player and maturing," Burkhart said. "If that continues, we're going to be OK."
Filed to: Jaquan Lyle