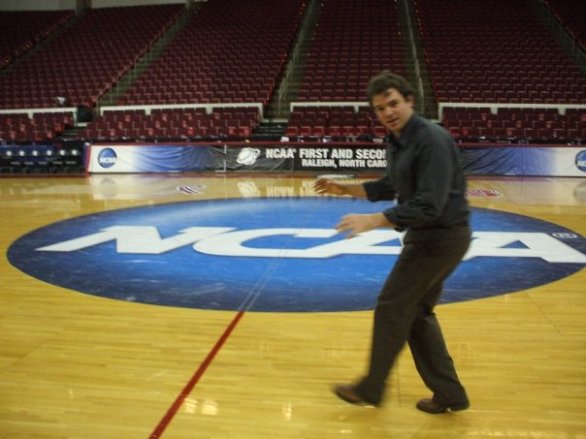 Ladies and gentlemen of the ITH blogging republic (to steal a line from Eamonn), it is with a great deal of excitement and also some sadness that I write you today.
The sad part: This week marks the end of Chris Korman's tenure as Sports Editor at The Bloomington Herald-Times.
The exciting part: He will depart for a fabulous opportunity as the Weekend-Enterprise Editor at the Baltimore Sun. (He also tells me he'll be editing The Toy Department. Hooray for blogs. Go check it out once he arrives.)
Korman, as many of you that have read his work know, raised the bar for IU sports coverage during his time in Bloomington. He did a stellar job, first as a beat reporter and columnist and more recently, as the sports editor and columnist.
He covered perhaps the most tumultuous time in the history of Indiana basketball: The Kelvin Sampson debacle. And he did it brilliantly. The past two years, he's consistently delivered high-quality pieces on Tom Crean's quest to rebuild Indiana basketball.
Many of us would have loved to hear him tell the stories of the program once it is returned to prominence, but alas, that will not happen.
The Herald-Times will not easily replace a journalist as talented and as driven to succeed as Korman. But that talent and drive is exactly why he'll soon begin the next chapter in his career. This move is clearly a step up for him professionally and I'm quite confident he'll continue to light the world on fire at the Sun.
As many of you might have noticed, Inside the Hall has enjoyed our various collaborations with the H-T the last two years. And with Dustin Dopirak and Hugh Kellenberger still in town, those collaborations will continue. (Assuming the new sports editor gives them the green light.)
While some outlets refuse to acknowledge our existence or give credit to work we've produced, the H-T, under Korman, did just the opposite.
He consistently encouraged us to continue building Inside the Hall because he saw value in our work and the community we've built. And rather than viewing our presence as a threat, he instead helped us promote the site and grow it. This is not something we'll ever forget.
So please join me in congratulating Chris and wishing him the best of luck.
– – –
Osterman submitted the following farewell:
The first time I met Chris Korman, he told me my name sounded like some terrible disease. Well, my Gmail handle, but where's the distinction, really?
Despite his gruff, insensitive introduction, we've grown to be close friends. It has been a privilege to work side-by-side with Korman (I can't think of a time I've ever called him Chris) for the last two-plus years. He has been as close to a mentor as I guess I've ever had, and a very good friend.
Korman once described me as "full of antics," which is certainly true. But what's also true is that he is often a co-conspirator or even instigator of said antics.
Like the time he closed a van door on my hand. All the way. Or the time he sang me an impromptu song about gingers, which I believe is still saved on my phone. Or when he and I engaged in perhaps the most epic two-person quest to lead the United States to World Cup glory, only to fail quite miserably.
Yes, I think it's fair to say Korman and I formed something of a team. A sort of two-man wolfpack. The two of us wolves, roaming around Bloomington, looking for NCAA recruiting infractions and Sam Adams winter brews.
So like Alex, it was with bittersweet excitement that I greeted the news of Korman's impending departure. It's an incredible opportunity, and an obvious next step in an already illustrious career.
But it also means the loss of a respected colleague, one which I surely am not alone in feeling. The H-T must replace a bright, young journalistic mind. The IU press corps loses one of its finest voices.
But perhaps must important, Alex, Dustin, Hugh and I must say goodbye to a very dear friend.
Vaya con dios, Chris. You will be missed.
Filed to: Chris Korman