Hamilton Southeastern's Gary Harris: A two-sport star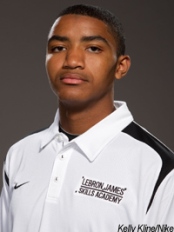 It's not as crazy as it seems. Yes, Gary Harris is an elite basketball recruit, particularly after what has been a successful and massively impressive summer. But there's value, he said, in finding his escape from the hectic universe of basketball recruiting — it comes with pads and a helmet.
"(It's) just another way for you to compete," Harris said. "It's fun."
Harris, one of the top 20 players in the 2012 class, already has an offer list pages long, with Michigan State, Indiana, Illinois, Butler, Notre Dame, Ohio State and Xavier among the schools in the mix for his services.
And yet, in an age where multi-sport athletes are discouraged in favor of concentrating solely in one field, Harris will be finding his fall fun under the Friday night lights.
The 6-foot-4 Harris plays wide receiver for Hamilton Southeastern, a team that finished last season 10-2.
"It's like you can just get away," Harris said. "You can't play basketball 24-7. … Football is just kind of a good release."
Of course, Harris will be playing basketball again come wintertime. And given the summer he had, the Royals' gym ought to sport a who's-who lineup of college coaches. Harris' play has made him one of Indiana's most sought-after 2012 recruits.
According to Jake Brown, Irish Illustrated recruiting savant and friend of Inside the Hall, Harris plans to line up a third visit to Notre Dame this fall, with strong mutual interest between both parties.
But like many other prospects in the Hoosier state, Harris has come away impressed with the job Tom Crean is doing in rebuilding Indiana's storied tradition as well.
"Coach Crean, he's doing a great job recruiting me," Harris told Inside the Hall. "He's on a mission to get IU basketball back on the map."
Still, with a plethora of attractive options on his table at the moment, Harris is in no rush. He said he plans to meet with his parents soon to talk more about his sizable list of suitors, and perhaps begin focusing on schools that "would best fit" him.
Perhaps there will even be some offers from his work on the gridiron this fall, where Harris said he's received "some" scholarship interest. But when the time comes to make a final decision, Harris' intentions are clear.
"I'm pretty good at football too, but all that stuff I've been doing at basketball lately … That's going to be my future for college."
Filed to: Gary Harris