Matt Carlino opens up his recruitment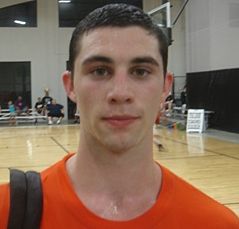 Update: Hugh Kellenberger of The Herald-Times talked to Carlino about his decision to open up his recruitment. When Kellenberger asked if re-commiting to IU was an option, Carlino had this to say.
"For right now, it's not (an option). I like IU a lot. But right now, coach Crean said — he told me that he doesn't need any players there that aren't 100 percent committed to the program and everything, and obviously he knew I was thinking that way. He told me that it was good for me to tell him now, instead of being there and having those kind of thoughts. He respected my decision."
—
It's been an eventful evening, to say the least, in the world of Indiana basketball.
First, The Washington Post reported Moses Abraham gave a verbal pledge to Georgetown on the day he returned from his official visit to Bloomington.
And now, in a confirmation of a story reported earlier by Mike Pegram, Matt Carlino has confirmed to Inside the Hall that he has decided to open up his recruitment.
"Coach Crean and his staff have been great to me," Carlino wrote in a text message to Inside the Hall. "However, I feel that I committed too early and although I like Indiana, I felt it would be good to explore other options."
Carlino, a 6-3 guard, played this past season at Bloomington South after transferring from Highland High, near Phoenix (AZ). He committed to Indiana shortly after attending an Elite Camp in August of 2008.
Indiana now has one player committed, Hamilton Heights wing Austin Etherington, in its 2011 recruiting class.
Related: J.R. Holmes expects Carlino to return to Bloomington South, according to Hugh Kellenberger of The Herald-Times.
Filed to: Matt Carlino